Thermal Camera Basics to Implement Right Now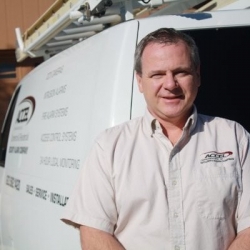 Latest posts by Evan Gavrilles
(see all)
The COVID-19 pandemic highlighted security problems for businesses all around the world as they tried to find the best way to protect their property and assets. Even more important was the need to prevent further spreading of the virus and keeping their employees and visitors healthy and safe. So, more and more companies are turning to thermal cameras to check for body temperature before people enter their facility.
How Thermal Cameras Work
The difference between a thermal camera and traditional cameras is that traditional ones work on the visible spectrum, and thermal cameras use the infrared spectrum. But it's important to purchase the right thermal camera for your business.
Many people think that any thermal camera will work but the FDA is specific with their guidelines for using thermal cameras. The equipment needs to be accurate to +/- 0.9 degrees F and should use a blackbody calibration unit to compare temperatures around it. The thermal cameras most of us are familiar with are the ones used for perimeter security, which have a 5-10 degree margin of error.
So, choosing the right camera for this purpose is critical, or it won't accurately check body temperature and prevent the spread of the virus.
Thermal Cameras are One Solution that Solves Many Problems for Different Industries
Thermal cameras solve problems related to COVID-19 in every industry. Airports and logistics companies use them to scan employees to make sure no one with an elevated temperature, one of the virus's primary symptoms, returns to work sick.
Food distribution companies use these cameras to scan for safety issues and record footage for possible future lawsuits. Co-working spaces use them to scan their clients, the people renting the co-working space, to reduce the spread of the virus. Industries everywhere are using thermal cameras to ensure the safety and health of customers and employees.
Benefits of Eagle Eye Networks Cloud VMS
Eagle Eye Networks Cloud VMS is an innovative security storage solution that provides a secure place for businesses to store and access video surveillance footage anywhere. When you add thermal cameras to your security system, you can access temperature data and video footage in real-time and store it in the cloud for access later.
This security technology has many benefits, including:
Simplified setup
Cyber Security
Integrates with other security technology
Local display
Archiving
Remote access to data and video
Low bandwidth mode specifically for cellular connections
Alerts and data available via API
Audit trail
With broad camera support and advanced analytics, Eagle Eye Networks gives you the tools you need to manage your business post-COVID-19. For more information on how this technology can help you, contact Access Communications.
ABOUT Accel Communications, Inc.
Accel Communications has operated in the Greater Arizona area since 1990 as a full-service security alarm company that sells, installs, monitors, and services fire and security systems. They are the leader in Honeywell Fire, Brivo Web-Based Access Control, Eagle Eye and Flexwatch CCTV camera systems, and DMP Security.