The 2021 holidays are underway, and you want the season to be remembered for all the right reasons this year. A lot of advice is given to homeowners for holiday fire prevention, but what about business owners? If you have a business that decorates for the holidays or observes them in any way, it's important to be prudent regarding fire prevention. After all, businesses are not immune to holiday fires. Here are some ways you can control your holiday fire risks.
Practice Tree Safety
According to the National Fire Prevention Association (NFPA), U.S. fire departments respond to an average of 160 fires that start with Christmas trees. They cause $10 million in direct property damage annually, in addition to deaths and injuries. No business owner wants that liability.
Fortunately, there are ways to safely incorporate a Christmas tree at your business. You can purchase a fire safe artificial tree — or if you are using a cut fresh tree, make sure it is watered daily and taken down as soon as it dries out. The NFPA advises that when the tree shows evidence of drying, it must be removed from the building immediately.
Decorate Carefully
The NFPA also reports that electrical distribution and lighting equipment is involved in almost half of Christmas tree fires, with one in five of those fires igniting from decorative lights. The rest are ignited by a heat source (such as a candle, furnace or space heater) being located too close to the tree. To prevent one of these fires from happening at your business, make sure that:
Your tree is at least 3 feet away from heat sources like fireplaces, radiators, space heaters, candles or heat vents.
Your tree does not block any doors or exits.
You read the manufacturer's instructions for the number of light strands to connect.
You do not use old lights, worn lights or lights that quickly become hot to the touch.
Decorating for the holidays is a great way to attract customers; just make sure you do it safely.
Stay Up to Code
In addition to keeping your smoke alarms operable with fresh batteries, you want to make sure your business is up to fire code; that includes code that's specific to the holiday season. Requirements for artificial and natural Christmas trees can be found in both NFPA 1, Fire Code, Chapter 12 as well as NFPA 101, Life Safety Code, Chapter 10. The 2021 editions of both Codes were updated to include the specific fire test requirements, as well as other clarifications for how to safely include Christmas trees in your business.
By following these tips, you can reduce the risk of a holiday fire at your business. To discuss fire alarm monitoring and life safety devices to help your business stay safe, contact Accel Communications. We'll be glad to speak with you.
ABOUT Accel Communications, Inc.
Accel Communications has operated in the Greater Arizona area since 1990 as a full-service security alarm company that sells, installs, monitors, and services fire and security systems. They are the leader in Honeywell Fire, Brivo Web-Based Access Control, Eagle Eye and Flexwatch CCTV camera systems, and DMP Security.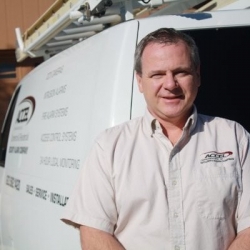 Latest posts by Evan Gavrilles
(see all)