Accel Communications is proud to offer our customers cloud-based security technology from Brivo, the first maker to bring cloud-based and subscription-based access control to the market (including a pure subscription model that makes getting the technology even more affordable for businesses).
Brivo also offers a mobile credential option so that users can simply swipe a mobile app instead of a separate, employer-issued credential. They've been ahead of the curve on keyless access control since the beginning, and now they've made it easier with a multifamily solution on a single platform called Brivo Access.
What is Brivo Access?
Brivo Access is Brivo's new, groundbreaking security platform where all your Brivo technology can be managed. It offers:
 Robust data analytics
 Streamlined workflows
 Operational and identity management integrations
This is in addition to other powerful security features that help businesses stay more secure than ever. The company listened to security integrators like us when developing the Brivo Access platform, which is why we trust them to give our customers what they need. As the end user, you'll have access to all your customized data, easily viewable on your end while remaining cybersecure and hidden from data thieves.
Other Features of the Platform 
The Brivo Access platform also offers you:
 Event tracking of door activity.
 Alert settings and reporting features.
 Event classification, so you can prioritize activities.
 User and credential management with group access permissions.
 A lockdown feature for security emergencies.
 Live and recorded video capturing and indexing.
 Remote and mobile management to control from any device and from anywhere.
 Role-based permissions.
 The ability to set up a building access perimeter.
 Access automation and scheduling.
The platform and its services are infinitely scalable, so you can adjust up or down according to the size of your property and staff. As for integration with your other security technology, Brivo Access offers hundreds of API integrations to expand connectivity and develop your security ecosystem.
Brivo Access was developed with your modern security needs in mind, including efficiency needs brought on during the COVID-19 crisis. This is the next-level access control solution businesses of all types can benefit from in 2021. To learn more, contact Accel Communications today. We look forward to speaking with you.
About Accel Communications Inc.
Accel Communications has operated in the Greater Arizona area since 1990 as a full-service security alarm company that sells, installs, monitors, and services fire and security systems. They are the leader in Honeywell Fire, Brivo Web-Based Access Control, Eagle Eye and Flexwatch CCTV camera systems, and DMP Security.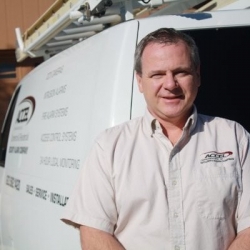 Latest posts by Evan Gavrilles
(see all)