In the security technologies space, integration — which is the ability to merge physical security applications into one single, comprehensive system — is king. One of the most popular, powerful integrations available is that of access control and video surveillance. By merging these two technologies, administrators have their access control events verified with timestamped video for legal or insurance purposes. 
Often, managers wonder whether their access control systems are suitable to integrate with a specific brand of video surveillance. The truth is, some brands integrate together better than others. One of the most ideal integrations available today is Brivo access control with Eagle Eye Networks cameras. There are many case studies documenting the success of this integration, including the one outlined here. 
Brivo and Eagle Eye Integration Case Study 
It started in 2018, when an IT director with an electronic security background came on board at a software company. His history with security technologies afforded him insights on the access control system the company had in place. One of those insights was that the system was outdated; the other was that it was not working at all the company's locations. 
Very quickly, the new IT director made the decision to shift to Brivo access control, as he was familiar with the brand and happy with his prior experiences. However, he was unaware of Brivo access control's outstanding integration ability with cameras from the Eagle Eye Networks brand. 
Fitting the Need with Zero Disruption
Early on, the IT director researched the integration relationship between Brivo and Eagle Eye Networks. "I looked into Eagle Eye Cloud Video Management System (VMS) and its integration with Brivo's access control," he explained. "It fit our needs from a tech perspective, meaning it was cloud based, easy to use, and the price was right." His next step was to choose a security dealer that could install both brands and oversee the integration. 
Once he found a dealer, he said, "It was pretty much turnkey. They very efficiently pulled out the old systems and installed the new, and we were up and running with zero disruption to the business."
Lockdown Brings the Benefits to Light  
When the company's physical locations were locked down during COVID and employees began working from home, that shed more light on the need for this newly integrated system. According to the IT director, he relied on the integration to make sure all locations remained secure on a daily basis. 
"When we went into lockdown, I used the access control and cameras to ensure employees were not going into the office," he said. "Then I set up notifications through the VMS to alert me if someone entered any one of our three facilities." Eventually, the company was faced with a staff reduction; fortunately, offboarding them from the access control system was a simple, straightforward process thanks to the integration. 
Business Intelligence Enters the Equation 
The integrated security system also delivered the company priceless business intelligence. After the lockdown, company leaders asked the IT director for system reports to compare building traffic before, during and after. Because Brivo provides comprehensive access reports, he was able to do that. In fact, the business intelligence he was able to gather included: 
Access events for each door

Building occupancy for specific times

Traffic patterns at each location
The company leaders didn't anticipate the intelligence could be this granular. But it can be, with this powerful access control and video surveillance integration. 
The Exciting Conclusion
Three years later, this integration between access control and video surveillance has delivered everything the company wanted in a security system. "Brivo and Eagle Eye have taken the burden off my small staff," the IT director concluded. "Because they're cloud based, we don't have to continually manage, maintain, or upgrade the systems. We're confident our cameras are running, and we can just jump on a browser, log in, and have eyes on everything from anywhere." 
These same benefits are available to your organization, if you replace your antiquated access control with a new Brivo system and integrate it with Eagle Eye Networks cameras. Marrying these two technologies delivers the security and business intelligence today's enterprises need. To learn more about this integration for your commercial building or multi-family residential property, call Accel Communications today. We look forward to assisting you. 
About Accel Communications, Inc.
Accel Communications has operated in the Greater Arizona area since 1990 as a full-service security alarm company that sells, installs, monitors, and services fire and security systems. They are the leader in Honeywell Fire, Brivo Web-Based Access Control, Eagle Eye and Flexwatch CCTV camera systems, and DMP Security.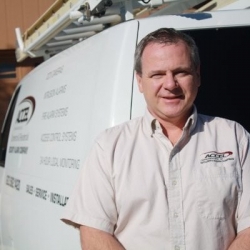 Latest posts by Evan Gavrilles
(see all)