When it comes to security at apartment complexes, installing video surveillance can protect ownership from liabilities and safeguard their investments while keeping tenants safe. But before installing video surveillance for apartment complex security, there are few things to know.
Where It's Legal
There are legal limitations regarding where apartment complex owners can install video surveillance systems. As the owner, you are legally permitted to install video surveillance in common areas around the property where access is unrestricted to residents, provided that these are places where residents do not expect a reasonable degree of privacy. These areas may include the:
Gated entry
Parking structure
Common hallways and stairways
An indoor lobby
Gated pool
Children's playgrounds
In these spots around the property, residents are entering, exiting and gathering without expecting personal privacy. Of course, these are also spots where the risk of criminal activity could be high. While owners should install cameras in those areas, they should also notify tenants about the installation.
Where it Isn't Legal
Next, it's important to know where it is not legal to install video surveillance. Apartment complexes have areas that, while communal, also introduce reasonable expectations of privacy. This includes community bathrooms, changing rooms and even tenant laundry rooms. Because these are places where people expect privacy to conduct personal business, owners should not install video surveillance in these places. And of course, it should go without saying that cameras should never be installed inside the tenant residences.
Security vs. Spycams
Before installing video surveillance at apartment complexes, owners should understand the difference between security and spying. More than a dozen states have laws designed to protect rental tenants and other types of customers from being spied on. Often, the laws include language such as, \"Installation or use of any device for photographing, observing or overhearing events or sounds in a private place without permission of the people photographed or observed is considered a law-breaking behavior.\" Being aware of the laws and complying with them are critical.
Before installing video surveillance in apartment complexes, owners need to know these essential guidelines. To discuss apartment complex video surveillance with knowledgeable security professionals, call Accel Communications. We look forward to speaking with you.
About Accel Communications, Inc.
Accel Communications has operated in the Greater Arizona area since 1990 as a full-service security alarm company that sells, installs, monitors, and services fire and security systems. They are the leader in Honeywell Fire, Brivo Web-Based Access Control, Eagle Eye and Flexwatch CCTV camera systems, and DMP Security.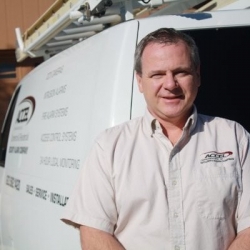 Latest posts by Evan Gavrilles
(see all)