If you're a property manager, then you understand how difficult it is to balance the security of your tenants and buildings with the ever-rising costs while increasing revenues. You certainly shouldn't have to worry about your video surveillance and access control. That's where Brivo Onair comes in to provide you the best security possible to protect your tenants and buildings. It also allows you to manage your properties from anywhere on any one of your smart devices.
Improved Security
Brivo Onair improves security for tenants and properties by:
Letting you manage one security system for video surveillance and access control
Allowing approved visitors and renters into buildings
Remaining secure using loss-free credentials
Connecting events involving doors with recorded or live-feed video
Allowing you to manage all of your locations and doors on one system
Increased Productivity No Matter Where You Are
This security solution allows you to manage your property from anywhere, on any device, on your schedule. You no longer have to go to the office to perform certain activities such as:
Controlling access to parking facilities, areas that are off-limits, and certain tenant entrances
Remotely close facilities during emergencies
Creating customized access schedules for visitors and contractors
Revoking access for lost or stolen keycards immediately
Plus, Brivo Onair integrates with other systems such as identity management.
Save Money and Time
The Brivo Onair systems help you save time and money and are especially helpful for property managers with limited staff and IT support. Because you can access it anywhere on any device, there's no need to hire more staff to monitor systems and it eliminates the need to drive between various facilities. You also save money by eradicating the need to reissue lost keycards and rekeying doors.
The ability to unlock doors prevents you from responding multiple times to properties when you're off. You can avoid IT costs related to backups, upgrades, and routine maintenance. Instead of trying to find contractors or tenants after their contracts expire to get their credentials, you simply take them out of the system remotely.
The Brivo Onair system is a gamechanger for property managers. It's a comprehensive system that offers the utmost efficiency. It also provides your tenants with modern convenience, which increases their satisfaction. You can respond to their requests quickly, remotely open doors if someone forgets their phone, and give them just one credential for accessing amenities and their residence.
Contact your security integrator today about adding this system to your properties to make your life easier and increase overall convenience.
About Accel Communications, Inc.
Accel Communications has operated in the Greater Arizona area since 1990 as a full-service security alarm company that sells, installs, monitors, and services fire and security systems. They are the leader in Honeywell Fire, Brivo Web-Based Access Control, Eagle Eye and Flexwatch CCTV camera systems, and DMP Security.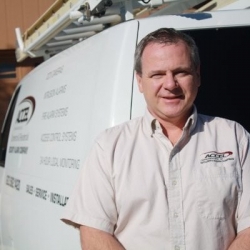 Latest posts by Evan Gavrilles
(see all)