Businesses want to ensure the safety of their employees and customers as well as protect their inventory. After all, inventory is the lifeblood of most businesses. These are the main reasons why most businesses invest in a business security system. Yet, business security systems can do far more and provide the business owner advantages beyond just securing property.
Many business owners are surprised to find that security systems can be a tool that helps increase their profitability. Naturally, security systems reduce theft, but nothing else can provide the valuable insights you need in improving customer engagement, employee productivity, and reducing energy consumption.
Business security systems can:
Reduce theft
Increase safety
Reduce the incidence of lawsuits
Deter vandalism
Deter loitering
Deter outside theft
Reduce the incident of employee theft
Control/ restrict/ manage/ monitor access
Detect motion
Provide alerts
Provide automation
Provide business insights
Integrate Top Technologies in Your Business Security Systems
One of the biggest obstacles in commercial security is knowing exactly what your business needs. With so many options, knowing what technologies to implement in your commercial security system can be very challenging. One way to overcome this problem is by discussing your objectives with a professional; have them evaluate your facility and then provide recommendations.
Businesses should consider these top security product options:
Fire/smoke/carbon monoxide detectors and alarms
Automation integration
Video surveillance systems
Tools that restrict access to offices, supplies, or inventory
Intrusion alarms
Electronic locks and key pads
Door sensors
Restrict visitor access
Siren alarms
Motion detection devices
Glass break detection
Closed circuit television (CCTV)
Remote access and control of security system
Ability to view video surveillance remotely and over internet connected devices such as smartphones
Outdoor cameras
Real time alerts
24/7 Monitoring
Today's security technologies are for much more than protecting against theft or fire. An integrated security system can be the tools that give the business owner the control and insight they need for success. If you have questions about how to fully leverage security product technologies, please feel free to give us a call today.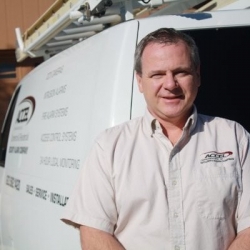 Latest posts by Evan Gavrilles
(see all)