Access control is a critical part of any building's security plan. Locks and keys are an antiquated means of protecting your physical and electronic assets. Researchers estimate the global access control market will increase from $7.5 billion in 2018 to $12.1 billion by the year 2024. The reason behind this upward trend is the increase in crime around the world, the adoption of cloud-based access platforms, and technological advances.
What is Cloud Access Control?
EAC or electronic access control utilizes cloud-based systems that deny or grant access to authorized personnel, vendors, and employees. The person seeking access interacts with a reader usually at a business's entry points. The most common systems require the swipe of a card with specific credentials to gain entry.
The credentials may come in the form a key fob, card, or even your smartphone. Cloud access control offers convenience and streamlines your building security by granting access to employees without the confusion of managing actual keys.
With a cloud access system, there is no other installation other than the readers. These readers use traditional internet communication protocols and take advantage of existing Ethernet or WiFi infrastructure already in place. Everything is managed by a web browser, and this allows the facility's administrator or site manager to easily maintain the whole system through the subscriber portal. If a business has an IT department, then it can manage the cloud access system.
Scalability and Size of the System
One convenient feature of cloud access control is that if your business has multiple locations, you can have just one access card for them all. It eliminates the need to carry a different card for each place.
If you close or open another location then cloud-based services can be scaled up or down appropriately. There's no need to deal with excess equipment which simplifies everything.
Other Applications
Cloud access control also integrates with other software such as VoIP phone systems, alarms, and video surveillance. So, it's more versatile compared to older access control technology.
These systems allow flexibility with your business infrastructure, making them much easier to manage than legacy systems. A professional security integrator can help add cloud-based access control for a safer, more comprehensive security system.
About Accel Communications, Inc.
Accel Communications has operated in the Greater Arizona area since 1990 as a full-service security alarm company that sells, installs, monitors, and services fire and security systems. They are the leader in Honeywell Fire, Brivo Web-Based Access Control, Eagle Eye and Flexwatch CCTV camera systems, and DMP Security.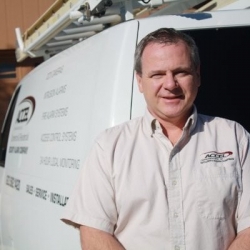 Latest posts by Evan Gavrilles
(see all)