In 2017, law enforcement only solved 17.6 percent of property crimes. Commercial burglaries only take seconds to commit and reap over a billion dollars of profit for criminals. The crime of burglary represents a significant share of serious crimes in the United States, and businesses are frequent targets, especially small businesses.
To ensure that your business is secure, you must think like an intruder. Here are a few simple ideas that you can use in combination with alarm monitoring and video surveillance to enhance security.
Account for All Keys to the Business
Not everyone is as honest as we'd like to believe. Past employees can use keys to the business to gain easy access. Also, current employees can make copies of their keys and pass them to criminals or use them for illegal purposes.
Of course, you can't go around mistrusting everyone, but there are some precautions you can take. Keep records of the keys you distribute and make sure employees return them whenever they leave your business. Instead of having one master key for every door, change the locks on doors to different areas so that they are different. Code the keys so that only employees know which locks they go to.
Use Sturdy Locks for the Exterior Doors
If you think like a burglar, you'll realize that simple locks are easier to break. However, a sturdy lock discourages most criminals and makes it difficult for the brazen criminal to gain access. Experts suggest that pin-cylinder locks provide the best protection for your business because they are challenging to pick.
The lock you choose should be a deadbolt that requires a knob or key to lock it. These locks can't be released by sliding a card through to pop it open or a piece of celluloid between the jam and edge. The celluloid technique is popular because it works on door locks that automatically catch as the door closes.
Burglars hate double-cylinder locks that require a key to open them from either side. These locks make it very difficult for a burglar to exit once he gains entry to the building. You can also add a bar to the rear door or over skylights, windows, and other openings.
Use Lighting Inside and Outside to Illuminate the Building
Burglars do their best work in the dark. Install a lot of lighting outside and inside your business to reduce the chances that a criminal will pick your building to break into. Flood light over entry points such as vents, windows, and doors.
Criminals often bypass lights by breaking them. Metallic and mercury vapor lights are virtually unbreakable. It's best to arrange interior lighting to illuminate anyone inside of the building so they are visible when police patrol.
These are just a few ideas where thinking like a burglar enables you to secure your property and prevent break-ins. If you constantly think like a thief when evaluating the security of your business, you may find creative ways to thwart criminal activity.
ABOUT Accel Communications, Inc.
Accel Communications has operated in the Greater Arizona area since 1990 as a full-service security alarm company that sells, installs, monitors, and services fire and security systems. They are the leader in Honeywell Fire, Brivo Web-Based Access Control, Eagle Eye and Flexwatch CCTV camera systems, and DMP Security.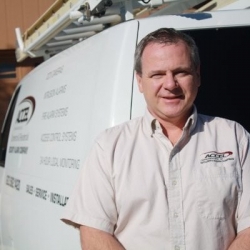 Latest posts by Evan Gavrilles
(see all)