Apartments and condos have different factors that affect building security. Unlike single-family homes, apartment and condo residents have more neighbors coming and going all year long. There are also a variety of different visitors streaming in and out of the complex at all times. So, security should be a top priority for the managers of condo and apartment properties. However, it's usually the first area cut when it comes to budget restraints. Here are some security measures to implement in multifamily complexes.
24/7 Monitored Security Cameras
Most complexes install security cameras but including 24/7 monitoring enhances the security they provide. Video cameras provide critical evidence for solving criminal incidents that occur on the property. However, unmonitored cameras aren't proactive.
Monitored security cameras catch crimes in progress, and the central station notifies law enforcement, on-site security guards, and building management immediately. Fast notifications allow responding resources to intervene or at the very least gather more information. Plus, it takes less time than scrolling through video footage.
Constant monitoring provides live video footage of the property and make residents feel safer. They also work to prevent crime as suspects are less likely to commit crimes in front of video cameras. You can place cameras in stairwells and underneath stairs where assaults are more likely to happen. The enhanced security that monitored video cameras provide is priceless if it stops just one assault or more serious crimes.
Access Control Security Systems
Access control isn't just for college campuses and big businesses. There are more security concerns than ever before, and access control provides an extra layer of security. Install access control at the pool, laundry room, manager's office, and other resident-only areas to prevent unauthorized access to these places.
You can really increase security by installing access control equipment in the main lobby so that apartments and condos can only be accessed by residents. This security system can supplement on-property security personnel and replace doormen altogether for a less expensive and more secure security solution.
These are just two main components of vital security systems for apartment and condo complexes. These systems integrate well with other security equipment to provide an upgraded security solution. For more information, contact Accel Communications to discuss the options available to enhance security on your property.
ABOUT Accel Communications, Inc.
Accel Communications has operated in the Greater Arizona area since 1990 as a full-service security alarm company that sells, installs, monitors, and services fire and security systems. They are the leader in Honeywell Fire, Brivo Web-Based Access Control, Eagle Eye and Flexwatch CCTV camera systems, and DMP Security.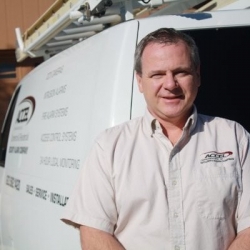 Latest posts by Evan Gavrilles
(see all)