Here is one thing every business, facility, and institution have in common. They all face a wide range of threats.
What is System Integration?
Before we discuss the advantages of an integrated system, it is important to define what an integrated system is exactly. An integrated security system integrates all of the parts of the security systems together, so that they can be controlled from one control panel which receives and sends signals from one place.
Increased Ability to Identify Problems
Having a single point of control strengthens the ability of the user to identify the nature of an emergency and facilitate an appropriate response, enhancing the safety of building staff and visitors.
One Information Platform Provides Better Management
Having a central platform means increased accessibility, and provides better management over all of the systems. The right platform can enable the user to manage many complex systems seamlessly and efficiently.
Informed Responses
An integrated security system means a better flow of critical information. Being integrated can allow the information to be expedited and facilitate a better response across all systems. This means when a problem is detected on one area such as glass break, you can respond immediately with access control measures.
Better Communication
With today's threats, having an emergency system, rather than just a particular security service, is more important than ever. An integrated security system comprised of intrusion, access and video surveillance technologies facilitates communication to warn of direct threats and enables employees to take appropriate actions, such as take cover, relocate, or evacuate.
Increased Safety
Maintaining optimal safety and security is an integral part of any business that protects your employees, visitors, and assets. An integrated system ensures that each individual system is fit for your specific needs, then optimized to work together seamlessly for ultimate safety and security advantage.
About Accel Communications
Whether you have a single facility, or a multi-campus operation, Accel can design a technologically advanced and integrated system to fit your needs. We have superior installation and monitoring experience and specialize in comprehensive security solutions.  We'd be happy to serve you.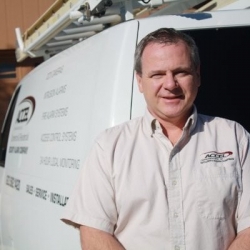 Latest posts by Evan Gavrilles
(see all)