Upgrading your commercial security system doesn't have to be a difficult process. By delegating the tasks of managed implementation to a trustworthy security integrator, you release any worries that upgrading security often brings. Buy-in of stakeholders isn't complicated because a professional integrator guarantees experience in the critical areas of managing implementation. Here are the essential areas that your project management team needs experience in:
Clear Definition of the Project
No project can be successful without clearly defining several elements:
Project objective
Scope of the project
Deliverables
Project Goals
Necessary resources
Once your security integrator works with you on defining these elements, then they can coordinate the logistics of the upgrade and start the implementation process.
Project Logistics
Momentum in projects this size is key, and the vendor managing it must coordinate multiple aspects of the upgrade. They need to manage the efforts of team members, outside contractors, and other participants to meet each milestone as it comes up. The project manager should be able to keep you up to date with each milestone and provide details of the process to ensure that everything is moving smoothly.
Quality Control Management
An experienced security integrator will treat your project like it's their own. They understand the importance of quality work at all stages. The project manager is vital in maintaining quality control as the touchpoint throughout the upgrade process. Quality control includes ensuring that all goals are met in a timely manner, monitoring all receivables, and inspecting the work being done.
You shouldn't have to worry about any aspect of this process as it's the job of the vendor managing the project. Whether your in the planning phases or just beginning to upgrade your security system, its critical to contact a licensed security integrator with experience in managing projects like yours. They'll prove invaluable throughout the process and relieve you of the stress of managing a project this size.
About Accel Communications, Inc.
Accel Communications has operated in the Greater Arizona area since 1990 as a full-service security alarm company that sells, installs, monitors, and services fire and security systems. They are the leader in Honeywell Fire, Brivo Web-Based Access Control, Eagle Eye and Flexwatch CCTV camera systems, and DMP Security.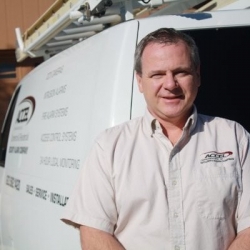 Latest posts by Evan Gavrilles
(see all)