Video surveillance and access control systems have made significant impacts on business security. Combine the two, and you have a fantastic security system that helps increase productivity and maintain environmental awareness. These systems also lower your costs.
Benefits of Linking Cameras and Access Control
You can integrate cameras with your access control system when your security integrator updates your security system. It's best to install security cameras along exterior and interior doors with access control. Managers can then verify the people granted access. In the event of a suspicious security incident, access control, and cameras simplify external and internal investigations and guarantee accountability.
IP-based technology that displays access control information in a simple-to-use, searchable interface should be utilized to support the video surveillance.
Benefits include:
You'll know when visitors are on site and where they are
Confirmation that employees are in attendance as well as department assignments
Records of employee processes, productivity, and routines are always current
Documentation provides defense against fraudulent liability claims
Additional Uses for Live Feed Video Surveillance
For additional security, the IP-based interface can also show a visual map of the premises and identify the main access points and the cameras that correspond with them. This interface provides administrators with a facility overview that helps them verify the status of the access control system at these critical points.
If an unauthorized person attempts to gain access to the facility the system alerts the monitoring center. From there, the monitoring center notifies the site manager of the incident by sending the live video and a snapshot of the incident.
The system can also verify when employees are onsite after hours. If this is unusual, the manager can confirm if it was the employee who entered the facility or if someone else was using their access card.
These are just a few benefits of integrating access control and video surveillance. Together these two security components can drastically improve situational awareness for your business.
ABOUT Accel Communications, Inc.
Accel Communications has operated in the Greater Arizona area since 1990 as a full-service security alarm company that sells, installs, monitors, and services fire and security systems. They are the leader in Honeywell Fire, Brivo Web-Based Access Control, Eagle Eye and Flexwatch CCTV camera systems, and DMP Security.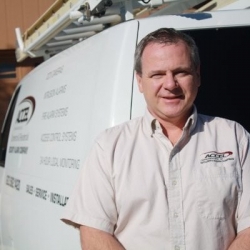 Latest posts by Evan Gavrilles
(see all)