A security plan is vital to protect your organization's physical and business intelligence assets. There's more to it than installing a security system and calling it a day. You need a comprehensive security plan that combines with a complete security system to secure your business. Here are a few guidelines to help you develop and implement the best security plan for your specific business.
Assess and Identify Possible Security Threats
Evaluate the current threat landscape surrounding your organization. Don't focus solely on external threats such as vandalism or burglary. You must also look at your electronic assets and cybersecurity. Consider internal threats such as employee theft and remember that employees can steal more than physical inventory.
Verify What Security Measures are Already in Place
A security integrator can help you assess what security tools and systems you already have in place and what you need to address additional threats. They can be a valuable asset when creating a security plan. A security integrator can tell you if any of your current security technology can be used, upgraded, or retrofitted for maximum cost efficiency.
Address Environmental Risks
Threats go beyond electronic and physical dangers. A well-developed security plan includes other environmental hazards such as flooding, freezing, fires, and natural disasters. These threats all affect company operations in some manner. When developing your security plan consider how they affect these operations and the physical integrity of your building.
Install Additional Security Measures as Needed
After you and your security integrator assess the security risks of your company, add new security products to enhance the systems you have in place. Perhaps there are systems that you were unaware of, such as electronic access control, smart video surveillance, and more.
A professional security integrator can suggest new procedures to improve your business security plan. They make excellent partners to ensure that your business is secure as well as helping you create a plan that isn't too intrusive on employees.
ABOUT Accel Communications, Inc.
Accel Communications has operated in the Greater Arizona area since 1990 as a full-service security alarm company that sells, installs, monitors, and services fire and security systems. They are the leader in Honeywell Fire, Brivo Web-Based Access Control, Eagle Eye and Flexwatch CCTV camera systems, and DMP Security.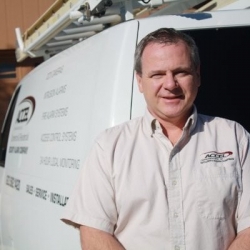 Latest posts by Evan Gavrilles
(see all)