Every year fire departments in the U.S. respond to an average of 3,520 motel and hotel structure fires. These fires cause millions of dollars in damage and civilian casualties. Cooking equipment was the main cause of hotel and motel fires and accounted for about half of them. It's critical to have a way to notify all guests and staff on the property in case of fires and other emergencies. Mass notification systems are the perfect security solution to help hotels and motels notify large amounts of people about dangers and threats on the premises.
Different Mass Notification Options for Hotels
There are three different types of mass notifications for hotels, and it's a good idea to use a couple of them together to alert the most people. These options include:
Audio Notifications: This type of notification emanates throughout the entire property, instantly notifying everyone on site. It's the quickest way to reach all guests and staff if a fire occurs in the hotel. It may be the fastest way to notify older guests who may not have a smartphone to receive other types of notifications.
It's also an excellent way to reach people when there is a violent intruder on the property. The notification can prove invaluable by including a lockdown message so everyone can get to a safe place.
Text Notifications: Text messages are a popular way to notify guests of threats and emergencies on the property. You can use a scripted message or personalize it for specific incidents. Guests and staff can receive evacuation instructions on their smartphones and notifications telling them when they can re-enter the premises.
Social Media Notifications:  Social media notifications can supplement text message notifications if this method fits your hotel. It's a wide-ranging platform that encourages response versus text messages that don't allow responses. Messages targeting Twitter, Facebook, and Instagram are the best platforms.
Mass notifications provide the best ways to communicate with hotel staff and guests. These methods work well for motels and hotels where there are many people spread out across a large property. You can use these notifications alone, but it's better to use them in conjunction with others to ensure the messages are received.
Make sure to establish protocols for mass notifications so that messages are accurate and provide the best information for individual events. Mass notifications can prevent injury and death in fires and other emergency situations. Contact Accel Communications, Inc. to find out how you can establish a mass notification system and develop a better security plan for your hotel or motel.
ABOUT Accel Communications, Inc.
Accel Communications has operated in the Greater Arizona area since 1990 as a full-service security alarm company that sells, installs, monitors, and services fire and security systems. They are the leader in Honeywell Fire, Brivo Web-Based Access Control, Eagle Eye and Flexwatch CCTV camera systems, and DMP Security.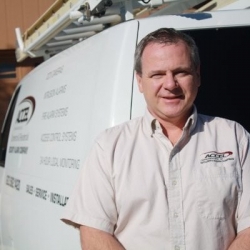 Latest posts by Evan Gavrilles
(see all)