elThe primary goal for hotels is to provide their guests with a safe and enjoyable experience. For hotels, it's imperative to install a comprehensive security system that secures the property.  But it must be discreet so that it doesn't interfere with the building's overall appearance and functionality. Hoteliers should install several vital security systems for maximum protection that can blend in with the environment.
Mass Notification Systems
The National Fire Protection Association reports that there are approximately 3,520 structure fires in motels and hotels every year. While they only make up one percent of all structure fires each year, that is still a significant number. Those fires resulted in 120 civilian injuries and nine civilian deaths, as well as $84 million in property damage.
It's important to notify guests and employees when emergencies and fires occur but audible alarms aren't always enough to warn people on the property. Hospitality establishments have several options with mass notifications, and they include:
Social Media– Some hotels and motels find social media an effective tool in addition to text notifications. If you think your establishment can use social media, consider notifications for Instagram, Twitter, and Facebook.
Audio Notifications– Audio notifications are excellent ways to notify large groups of people spread out in different areas of a building. It transmits across the premises to reach everyone instantly. This method may be the best way to notify people if there is a fire, especially if the hotel or motel caters to elderly clientele who may not have smartphones to receive messages on. If there's an aggressive intruder on the property, the establishment can notify everyone to lockdown with an audible alert. These messages help people get to safety or designated exits.
Text Notifications– Text messages are one of the most common mass notification methods. The hotel can transmit a scripted message with instructions on how guests should evacuate and that they'll be notified when they can re-enter the property. You can use these scripted messages as templates, and you can also alter the messages to include the specific details of an event.
Access Control
An access control system can control access to staff-only areas or guestrooms and public places on the property. It allows you to restrict access to the general public but allow hotel guest into amenities such as pools and gyms. You can also download and search logs to determine who is trying to enter off-limit areas or manage staff access such as assigning user credentials or revoking them.
Video Surveillance
Hospitality establishments need effective video surveillance to protect their guests and property. It helps save them from criminals and threats,allowing you to track guests and visitors as well as prevent break-ins. Security cameras monitor who accesses amenities and can even document possible employee theft. Cameras provide your guests with peace of mind and increase repeat business.
Keeping your guests and staff safe is paramount in the hospitality industry. Use intelligent security solutions to provide a secure environment, reduce crime, and facilitate communication across the property.
 ABOUT Accel Communications, Inc
.
Accel Communications has operated in the Greater Arizona area since 1990 as a full-service security alarm company that sells, installs, monitors, and services fire and security systems. They are the leader in Honeywell Fire, Brivo Web-Based Access Control, Eagle Eye and Flexwatch CCTV camera systems, and DMP Security.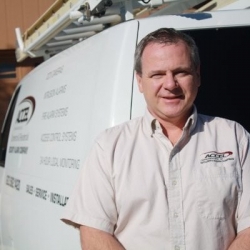 Latest posts by Evan Gavrilles
(see all)