It takes a while to find a security integrator that you trust with the experience necessary to install a security or fire alarm system. Once you purchase the system and the alarm company installs it, the relationship with your alarm company doesn't just end. There are usually additional services offered because an alarm system requires ongoing maintenance and monitoring.
Alarm Maintenance and Monitoring
Regular maintenance is critical to keep your alarm system in working order. Since every business is different, maintenance plans are customized strictly around your business's hazard level and the size of your system. Security incidents or fires can leave catastrophic property damage, property loss, and even death. Routine maintenance helps prevent devastating damage and reduces threats.
The monitoring for security or fire incidents is ongoing. The alarm system sends a notification to a central monitoring station where trained operators notify police or fire and rescue.
Alarm Testing and Inspections
Inspections and testing are critical for all systems to ensure they work and that they're in compliance with all legal and insurance requirements. Most companies will even inspect fire alarms that someone else installed. These services will catch malfunctions or problems with your fire or security alarm that could cause the systems to not work correctly. When these systems aren't maintained, they can fail to work when you need them. You want the system you purchased to notify you of threats and alert you to emergencies to protect your property and the people who reside or work there.
Reports
Reports are a vital service after the installation of your alarm. They prove that you maintain and test your alarm, and most localities require a report showing that everything works and that you're in compliance with all regulations. You may receive a hard and electronic copy of reports or just one version.
For alarm companies, the relationship with their clients after the sale of your alarm is the most important. They understand that you're entrusting them with the security of your property and the people associated with it. Don't be afraid to ask questions about the process and what you can expect after the sale.
ABOUT Accel Communications, Inc.
Accel Communications has operated in the Greater Arizona area since 1990 as a full-service security alarm company that sells, installs, monitors, and services fire and security systems. They are the leader in Honeywell Fire, Brivo Web-Based Access Control, Eagle Eye and Flexwatch CCTV camera systems, and DMP Security.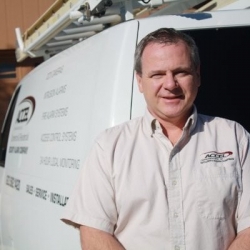 Latest posts by Evan Gavrilles
(see all)