Experience in project management is critical for proper security system integration and installation in commercial businesses as well as governmental, healthcare, and educational industries. These projects are large in scale, and each one requires customization since no two buildings, facilities, or campuses are the same.  Only an experienced integrator can plan and implement complex projects successfully.
Scalability of Projects
Once an expert integrator completes huge projects efficiently and effectively, they can use their experience to scale up or down to a variety of projects easily. A security professional who designs and executes projects on a smaller scale can gain valuable experience that will help on larger projects. Scaling a security plan around the scope of a project is a skill that can only be developed over time after completing many comprehensive projects.
Unique Design Needs
Every business is unique and therefore requires a security system tailored to their needs. A security integrator must contend with many complications such as remote locations, organizations with multiple locations, areas of high risk, or restricted places. Experience in these areas plainly illustrates that this security expert can handle a wide variety of projects, including yours.
Project Managers Must be Flexible
Even a project without complications requires a bit of flexibility on the integrators part. Extremely customized projects may call for a bit of flexibility because a business's needs are dynamic. Security experts who can show where they've completed jobs in a variety of sizes, types, and complexities demonstrate their ability to provide unique solutions and ideas for other businesses. Less experienced security professionals may not be able to provide the flexibility needed in complex projects.
Reputation
Reputation is everything in this industry, and that's why it's critical to finish jobs on time and correctly. It's the best way to gain experience and a positive reputation. Experience comes with completing a variety of projects over time and is critical to grow as a security expert and manage complex projects later on.
ABOUT Accel Communications, Inc.
Accel Communications has operated in the Greater Arizona area since 1990 as a full-service security alarm company that sells, installs, monitors, and services fire and security systems. They are the leader in Honeywell Fire, Brivo Web-Based Access Control, Eagle Eye and Flexwatch CCTV camera systems, and DMP Security.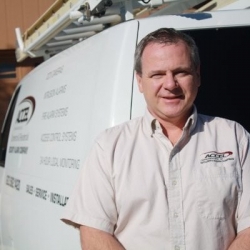 Latest posts by Evan Gavrilles
(see all)