Security is a prime concern for building owners and managers. With multi-family units, there is a constant flow of new tenants and guests. In organizations, there are never-ending streams of employees and visitors. The constant flow of people makes it difficult to restrict access to resident-only spaces and ensure the safety of everyone in public areas.
Contact a Security Integrator to Assess Your Building's Risks and Vulnerabilities
Today's commercial and multi-residential security systems are complex, and the technology is always evolving. A security integrator will evaluate the property to identify its risks and vulnerabilities. This evaluation enables the security integrator to customize a comprehensive security solution that meets the needs of the business owner and their property. They can advise on the most innovative products and professionally, develop a security plan, and install the access control system, so there's no doubt that it's done correctly.
Identify Critical Company Assets
The next step is to identify critical assets. This process is vital because it pinpoints exactly what the security system and access control need to protect. Once the assets and vulnerabilities of the complex are defined, the security integrator can start the process of developing a tailored solution to address security needs.
Since every building is unique, evaluating the property and defining critical assets is essential to ensure the security of building residents and managers. A successful security solution delays, denies, or deters unauthorized access and criminals.
Why Access Control is Vital to Commercial and Multi-Residential Properties
Access control is a much more effective security solution than lock and key systems. Access control also provides many benefits, such as:
Preventing Unauthorized Access to Outsiders– Controlling access in large complexes and companies is difficult. Access control prevents unauthorized access to restricted areas as well as unwelcome visitors who may have criminal acts in mind. Overall, access control protects employees and building residents. Additionally, building owners can run a report on the use of access cards such as who uses them, when, and where.
Reduce Problems Associated With Lost Keys– Tenants and employees frequently lose keys or don't turn them in after they've left for good. Lost or missing keys create a huge safety issue, and owners incur the cost of changing locks and making replacement keys. An access control system makes it easy to make changes. Owners and administrators can simply remove users or disable cards in the system. It's also simple to reissue credentials to people who lose their keycards.
Reduce the Risk of Theft– Criminals can pick locks easily. The FBI reported in 2017 that 57.5 percent of all burglaries were done forcibly. Access control restricts access to certain areas reducing theft and property crimes.
Access control systems are the perfect addition to security systems to restrict access to specific places as well as protect the property and people within. It also integrates well with other security products and systems.
ABOUT Accel Communications, Inc.
Accel Communications has operated in the Greater Arizona area since 1990 as a full-service security alarm company that sells, installs, monitors, and services fire and security systems. They are the leader in Honeywell Fire, Brivo Web-Based Access Control, Eagle Eye and Flexwatch CCTV camera systems, and DMP Security.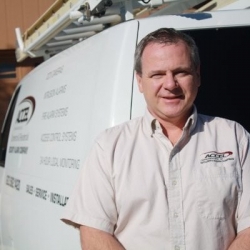 Latest posts by Evan Gavrilles
(see all)