When selecting security cameras for your business, past experience teaches us to purchase the most cutting-edge technology meaning those that are Ultra High Definition. But before you run out and buy the best cameras on the market, consider the total expense of the security system, including storage.
Understanding Video Resolution
There are two numbers that represent video resolution, and they look like this: 1280 x 720. These numbers refer to the number of pixels displayed or the number of dots that fit on the screen. So, for this example, it's 1280 pixels horizontally and 720 pixels vertically.
All TV content in the 1980s and earlier was known as standard definition or SD. Of course, technology has advanced, and there are now more television resolutions than SD. Here are some of the common ones:
Ultra HD, 4K TV, 3840 x 2160
1080i, HD, High Definition, 1920 x 1080
720p, HD, High Definition, 1280 x 720
SD, Standard Definition, 640 x 680
How Does Video Resolution Effect Security Cameras?
Before IP cameras arrived on the scene, all video surveillance footage was transmitted at standard definition resolution or lower and in analog. IP cameras digitize and compress the surveillance footage in the camera and then transmit it over a network connection. This technology allowed manufacturers of security cameras to improve the picture quality every year, so camera retailers wanted cameras with better resolution every year.
Currently, 4K is the most advanced technology available in surveillance video and TV while 8K is still emerging. So, the logical person would say that there's no competition, the 4K is the way to go, right? Well, there's more to it.
The network storage and bandwidth are the deciding factors. Here is a guide to illustrate:
| | | |
| --- | --- | --- |
| 1 Hour of Video Footage | Bandwidth | Video Resolution |
| 4.050 GB | 9 Mbps | 4K- 4095 x 2160 |
| 0.900 GB | 2.0 Mbps | HD- 1920 x 1080 |
| 0.450 GB | 1.0 Mbps | HD- 1280 x 720 |
| 0.135 GB | 0.3 Mbps | SD- 640 x 480 |
When you multiply the number of security cameras by these figures, it's clear that 4K cameras require immense storage capacity. Plus, you need to add the cost of internet access. So, better picture quality means you need more storage and bandwidth. You should choose the camera that works best with your current infrastructure. It really depends on your internet service and how much data you can afford to store. Keep these numbers in the back of your mind when choosing the right camera for your business.
ABOUT Accel Communications, Inc.
Accel Communications has operated in the Greater Arizona area since 1990 as a full-service security alarm company that sells, installs, monitors, and services fire and security systems. They are the leader in Honeywell Fire, Brivo Web-Based Access Control, Eagle Eye and Flexwatch CCTV camera systems, and DMP Security.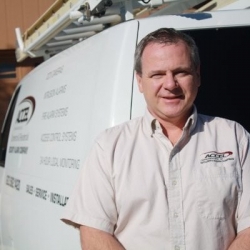 Latest posts by Evan Gavrilles
(see all)