While cloud-based storage for surveillance footage is popular now, Eagle Eye Networks has introduced the future of video management in their revolutionary Cloud Video Surveillance On-Demand Architecture or Eagle Eye Cloud VMS. This platform is truly cloud-based and not a refurbishment of old Windows or Linux software based in the cloud. Here's what sets this solution apart.
Cloud Video Surveillance On-Demand Architecture
One of the most significant differences is that Eagle Eye manages the storage infrastructure, so there are no third-party vendors involved. It's the most responsive, secure, and reliable cloud-based storage solution for security camera footage available today.
Extraordinarily Reliable Data Centers
This system distributes and stores power with a 99.995 percent reliability and continues to operate even if something disrupts the internet connection. It's independently ventilated, air-conditioned, and dual powered to enhance reliability. This innovative solution shows that Eagle Eye Networks takes reliability and redundancy for your cloud-based data seriously.
Onsite Management
The hardware for Eagle Eye Cloud VMS is onsite so your cameras never stop working even if the internet goes down. It constantly communicates with your cameras and monitors their status as well as verifies that no one has tampered with them. The cloud security camera appliance analyzes the video footage for motion, compresses it, and then encrypts it to store your data safely.
Intelligent Bandwidth Management

TM
Eagle Eye Networks developed Intelligent Bandwidth ManagementTM technology to deal with the challenge of limited bandwidth that many businesses have. Prior systems had significant issues with too much bandwidth consumption. However, Eagle Eye's cutting-edge, multilayered technology solves that problem so that this cloud-based solution works for large and small camera installations.
One-Click Cloud Security
Eagle Eye makes it easy to connect your security cameras to the system regardless of the appliance onsite. Eagle Eye Bridges automatically detect all of your cloud video surveillance cameras and properly configures them. You can add a camera with just one click. Using their profile, the bridges help the system automatically set the codec, frame rate, and resolution of the video cameras.
Eagle Eye Networks built the Cloud VMS system specifically for contemporary cloud application for storing video surveillance footage on the cloud. The reliable data centers, Intelligent Bandwidth ManagementTM, and simple security camera connection makes this storage solution one of the best available today.
For more information on Eagle Eye Cloud VMS, contact Accel Communications.
ABOUT Accel Communications, Inc.
Accel Communications has operated in the Greater Arizona area since 1990 as a full-service security alarm company that sells, installs, monitors, and services fire and security systems. They are the leader in Honeywell Fire, Brivo Web-Based Access Control, Eagle Eye and Flexwatch CCTV camera systems, and DMP Security.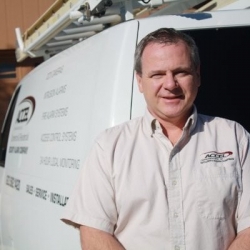 Latest posts by Evan Gavrilles
(see all)