Eagle Eye Networks introduced the latest in innovative cloud storage solutions for businesses. The Eagle Eye Network Cloud VMS system makes it easy and more secure for businesses to store and access video surveillance footage from anywhere. Eagle Eye manages the system for your company or facility, so there are no third-party vendors. Cloud VMS is the most secure, responsive, and reliable cloud camera footage solution available today.
Eagle Eye Cloud VMS is powered independently from other systems on your property. The fault-tolerant substructure stores and distributes electrical power for 99.995 percent availability even if the internet or power goes out. Eagle Eye Networks developed the Intelligent Bandwidth Management technology to help with the common problem many businesses have with limited bandwidth. So, Cloud VMS works with large and small video surveillance installations.
The Pinkberry Case Study
Pinkberry, the frozen yogurt store, has five franchise locations in Atlanta, Georgia. The security camera system they used was archaic and didn't allow the franchisee to access or view camera footage remotely. This system was inconvenient and not the safest security solution to protect the business and employees.
He began searching for a security solution that he could use with his existing cameras to reduce the cost but still provide an efficient security system. The franchisee also wanted to be able to view the camera footage remotely on his tablet and cell phone while being able to see all five locations on one screen.
Eagle Eye Cloud VMS was the perfect solution, and they installed the system at one of the locations at first. After the installation, the system worked well, allowing him to review his cameras on one screen and retrieve and share surveillance footage easily. After experiencing the ease of use and efficiency of Cloud VMS, he had it installed at the rest of his franchise locations.
He no longer needs to run into the store to retrieve video surveillance footage if an incident happens. He can share it easily with law enforcement if necessary. Pinkberry in Atlanta, Georgia, has a cutting-edge security solution that works hard to protect patrons, employees, and the property at an economical price.
For more information on Eagle Eye Cloud VMS, contact Accel Communications today. See how it can help protect your business.
ABOUT Accel Communications, Inc.
Accel Communications has operated in the Greater Arizona area since 1990 as a full-service security alarm company that sells, installs, monitors, and services fire and security systems. They are the leader in Honeywell Fire, Brivo Web-Based Access Control, Eagle Eye and Flexwatch CCTV camera systems, and DMP Security.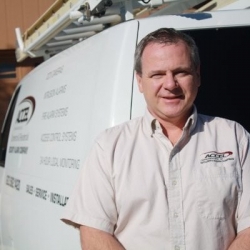 Latest posts by Evan Gavrilles
(see all)