Introduction
Eagle Eye Networks was founded on the notion that modern video security systems do not have to be difficult to install and complicated to use. The goal was to bring video security from the back room to your back pocket. That goal has been achieved with the Eagle Eye Security Camera Video Management System (VMS). Eagle Eye has developed a new approach, built specifically for the cloud from the ground up, leveraging the latest in modern technology.
Architecture
A Cloud Service isn't only about where executable software lives; it's a cradle-to-grave approach to delivering a comprehensive solution. Most of the successful cloud services in other industries have been designed and implemented specifically as a managed service, and the Eagle Eye Security Camera VMS is no different.
The reason this is important is because it is a true fresh approach, not an attempt to shove an existing on-premise video product into a cloud shape. These design considerations are reflected not only in the technical details of the solution, but also throughout the culture of the company.
The Eagle Eye Security Camera VMS is powered by multiple Tier IV datacenters that use proprietary Dual Storage technology, ensuring video is always available, even if one of the data centers suffers a natural or man- made disaster. It is important to note, the Eagle Eye infrastructure is not
managed by a 3rd party vendor, it is completely managed by expert Eagle Eye personnel. This architectural and cultural decision was made in order to
provide the most reliable, responsive, and secure solution possible.
Eagle Eye has also designed and built proprietary, on-premise devices, which are put in place at each customer's location. These cloud managed
devices can be though of as a video gateway from the cameras to the cloud. There are two types of these devices – a Bridge, which provides local caching of video, and a Cloud Managed Video Recorder (CMVR), which provides long-term, on-premise video storage.
Customers who choose to deploy a Bridge onsite automatically have all of their video stored in the cloud. Those customers that use a CMVR have the option of Eagle Eye's first of a kind, Cloud-Premise Flex Storage™ technology, allowing customers to choose where their video is stored. They are no
longer limited to the confines of on-site hardware. Customers can now choose to store some, or all of their video, in the cloud or on the local device.
Customers with more than one location benefit from being able to view video from multiple locations in a single user interface. They can even create layouts that show video form different locations in the same video matrix. In other words, they could choose to view all of the cash registers at the same time, even if they have stores scattered throughout the country.
The entire Eagle Eye platform is built upon the REST based Eagle Eye API. This API is available for to extend the functionality of the core product. Extensions could include integration with point of sale or access control systems, or even more in-depth integration such as video analytics for real time or post processing of video. A completely new user interface could even be developed. The possibilities are only limited by the imagination of the developer.
Most customers will use the Eagle Eye infrastructure, which eliminates the need for customers or resellers to manage servers and software. However, a few customers may choose to make use of the Private Cloud option that Eagle Eye offers. While not for everyone, some customers may find the additional overhead of server management and infrastructure maintenance worthwhile.
On-Premise Devices
Eagle Eye Networks' on-premise devices are grouped into two families, Bridges and Cloud Managed Video Recorders (CMVR). The difference between the two families is one of video storage. Bridge devices do not have long-term video storage capabilities while CMVRs do. Other than that, they behave the same way.
The on-premise devices are available in a variety of form factors and capabilities – but above all, they are designed to be easy to setup. They handle all of the communication with the cloud, so there is no need to configure firewalls or routers. There is no need to get static IP addresses or configure DDNS or VPNs. The Bridge and CMVRs are essentially all of those devices rolled into one.
Once a bridge is connected to the Internet, it immediately connects to the Eagle Eye Cloud. It establishes a secure connection using Eagle Eye Complete Privacy Encryption™.
Whether the Bridge model chosen supports only IP cameras or Analog + IP, connecting cameras is simple too. The Bridge will automatically detect the cameras and configure the network appropriately. It's just a single click to add each camera. Eagle Eye builds profiles for each camera model supported, so the resolution, frame rate, and codec are set automatically when they are connected. Eagle Eye default camera configurations can be changed from a web browser or mobile app.
Eagle Eye has developed Intelligent Bandwidth Management™ technology to deal with the reality of limited bandwidth. Earlier cloud recording systems faced challenges with bandwidth consumption. Eagle Eye's unique, multi-layered bandwidth management technology means the system works with both small and large camera installations without requiring additional bandwidth.
The Bridge sends low-resolution video to the cloud immediately, usually at about one frame per second. That way there is always some video on the cloud for customers to see. Additionally, there is an algorithm that determines when high-resolution video is sent to the cloud. The algorithm uses several factors including available bandwidth, motion detection, time of day, and user demand. Once video is copied to the cloud storage, it is marked for deletion from the local cache.
The Eagle Eye Security Camera VMS supports both IP and Analog cameras. All Bridges and CMVRs are compatible with IP cameras. Select models also support analog cameras. Eagle Eye works with most ONVIF cameras, giving customers the flexibility of hundreds of camera manufacturers and thousands of models.
Analog cameras do not require encoders. Coaxial cables connect directly to the Eagle Eye Bridge using BNC connectors. Once the camera is connected to the Bridge, it is treated exactly like an IP camera. Aside from the resolution, users will not know the difference between analog and IP cameras.
The CMVR family of on-premise devices gives customers the flexibility to adjust the portion of video stored in the cloud and the portion stored on premise. With Eagle Eye Cloud-Premise Flex Storage™ Video can be stored entirely on premise, entirely in the cloud, or in any combination, based on the customer's security requirements. Variables include eliminating the risk of evidence or system tampering, available bandwidth, number of cameras, and the customer's application. The user has the same smooth experience with real-time video search and access, regardless of the video storage location or where the user is located.
User Interface
The Eagle Eye Security Camera VMS is accessible from anywhere there is an Internet connection. There are two options for using this system, either a modern web browser or a mobile app. The user interface (UI) is intuitive, and does not require extensive training. In fact, it uses design patterns that are familiar to most consumers.
The user interface provides access to both live and recorded video. If the camera has a microphone, audio is also supported. The UI allows users to define Layouts, which group cameras in a way that makes sense. Arranging the video tiles is accomplished with drag and drop and changing the size of a video tile is just a click of the mouse.
The Eagle Eye Security Camera VMS provides motion detection analytics, independent of the camera's capabilities. It allows users to search video based on when there was activity, using a visual indicator called the history browser.
The user interface allows customers to configure alerts. Alerts can range from a camera going offline to motion during non-business hours. Alerts can be delivered via email or SMS message.
Companies can view their live and historic video, with audio from mobile devices or any major web browsers from anywhere in the world. Businesses can set up email and SMS alerts for important items spanning activity, irregular activity, motion detection, camera malfunction, system tampering, and more.
They can also easily specify appropriate permission levels for different users to view and download video. The system is web/browser based, with role based management, therefore access can be given to different departments of the business for both security and operations management.
The VMS can be used for traditional security and loss prevention, as well as to achieve broader operations and business goals, such as training, verifying compliance, reducing slip and fall risk, optimizing product placement, store quality, raising customer service levels, and verifying operational hours.
Eagle Eye Networks Case Studies
Click here to view some of Eagle Eye Networks' case studies.
Eagle Eye Networks Printable Flyer
Click here to download Eagle Eye Networks' Cloud-Based Video Surveillance flyer.
Storage Subscription Information
Information about Eagle Eye Networks' storage subscriptions can be found here.
About Eagle Eye Networks
Eagle Eye Networks is a provider of the first on-demand cloud based security and business intelligence video management system (VMS) that provides both cloud and on-premise recording. Eagle Eye offers secure cloud recording, secure on-premise recording, camera management, and alerts–all from a 100% cloud managed platform. The Eagle Eye Security Camera VMS includes Complete Privacy Encryption™ and Intelligent Bandwidth Management™ making it easy to deploy at multiple sites, both small and large. Eagle Eye Networks sells through authorized resellers. The headquarters is at 4611 Bee Caves Rd, #200, Austin, TX. For more information, please visit www.EagleEyeNetworks.com or call +1-512-473-0500.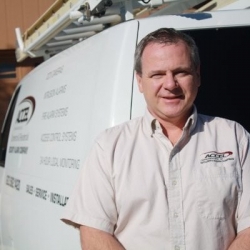 Latest posts by Evan Gavrilles
(see all)