IP video surveillance is a security term that you've probably heard before. People use it interchangeably with webcams, network cameras, and internet cameras, but there is a difference.
IP Video Surveillance-What is It?
IP video surveillance is a flexible, cost-effect security solution that works in many industries and applications. Similar to webcams, IP security cameras receive and transmit information over a network or the internet. But each IP camera is a separate entity with its own IP address. The only thing they need is a network or internet connection to transfer surveillance images. IP cameras connect to networks, much like your smartphone, laptop, or tablet does.
How Do IP Security Cameras Work?
IP cameras capture images and compress them like digital cameras so they can easily transmit the files over a network. You can either use them with a Wi-Fi router or wired network. If you don't choose the wireless connection, they connect to the router or broadband modem with an ethernet cable.
IP Video Surveillance Benefits
Many IP security cameras let you operate your surveillance system remotely using your laptop, smartphone, or tablet.  You can use them indoors or outdoors, night or day. You can zoom in or pan using an operator command or remotely. They're excellent overt or covert security cameras.
IP video surveillance is a flexible security camera solution that only requires a network connection. There's no need for a dedicated computer station, cables, or wired electricity. They're easy to move around wherever you need them, so they make the perfect permanent or temporary security solution.
These security cameras allow you to scale your security system over time, so it grows as you do. IP video surveillance integrates with the security equipment you already have, making it an economical solution. There's no need to respond to your business after hours to review or share video footage of security incidents.
For more information on how IP video surveillance can help your business, contact a security integrator near you. A professional integrator can assess your unique business needs and create a system tailored to them.
ABOUT Accel Communications, Inc.
Accel Communications has operated in the Greater Arizona area since 1990 as a full-service security alarm company that sells, installs, monitors, and services fire and security systems. They are the leader in Honeywell Fire, Brivo Web-Based Access Control, Eagle Eye and Flexwatch CCTV camera systems, and DMP Security.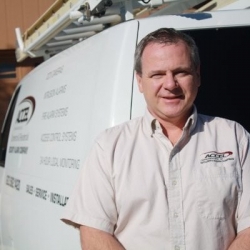 Latest posts by Evan Gavrilles
(see all)