If you manage a multi-family building, the stakes are high to keep your residents satisfied with the standard of living and amenities provided. In order to continue renewing leases, tenants want a building that helps them develop community, that intangible quality that transforms a pleasant living environment into a sought-out living experience. One study conducted by Apartment Life revealed that residents having at least one friend in the building are 38% more likely to renew their lease than those without any friends. Two or more friends increases their retention likelihood to 47%. In addition to community, they also want technology that simplifies their lives and makes their homes more efficient.
How to Create Community and Simplicity
With the right building retrofits, you can deliver technology that creates community and simplifies the home lives of your residents. Here are some of the smart, multi-family tech solutions we offer, made by the cloud technology experts at Brivo.
Smart Thermostats
With smart thermostats installed in your units, your residents can have indoor temperature control at their fingertips from anywhere. With a user-friendly mobile app, they'll be able to preset their temperature preferences for the home or make on-the-fly adjustments for their comfort. This allows them to use less energy and save money on heating and cooling. It's a great way to make living in your building more affordable for them, while still protecting your revenue.
Smart Locks
Traditional locks and keys are already on their way out in single family homes, and multi-family homes aren't far behind. You can be ahead of the curve by having them installed in your building, whether it's for common areas only or all the residential units as well. With the easy-to-use mobile app, your residents can unlock their doors with their own smartphones.
As the administrator, you can keep common area locks from opening afterhours using your admin account.
Smart Sensors
Your residents want to protect their homes, and you want to protect the whole building. Smart sensors can accomplish both. These sensors detect leaks in the unit when triggered by increased levels of moisture, dripping water or freeflowing water for an extended period of time.
With smart sensor leak detection, you can prevent small leaks from becoming expenses for your residents and liabilities for you.
Smart Lighting
Much like the smart thermostat helps residents save money on their utilities with automated heating and cooling options, smart lighting can reduce their bills by enabling them to program lights for specific times. For example: Rather than leaving a light on inside all day so they don't come home to a dark unit, residents can program lights to come on at 6:00 P.M. — just in time for a 6:15 arrival.
How Smart Tech Helps You Increase Revenue
Other multi-family options we offer include Brivo booking data insights, which can help you better manage use of your gym, pool and clubhouse or entertainment rooms — and of course, video surveillance systems to monitor activity throughout the building. Brivo research shows that adding these smart technologies to your building can help you increase profits by raising rent $35 per month per tenant. That's an extra $420 a year for every residence.
These are just some of the smart tech solutions we offer for multi-family buildings. To learn more about the solutions we offer to multi-family building management, call Accel Communications today.
ABOUT Accel Communications, Inc.
Accel Communications has operated in the Greater Arizona area since 1990 as a full-service security alarm company that sells, installs, monitors, and services fire and security systems. They are the leader in Honeywell Fire, Brivo Web-Based Access Control, Eagle Eye and Flexwatch CCTV camera systems, and DMP Security.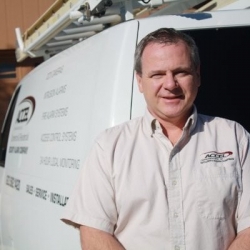 Latest posts by Evan Gavrilles
(see all)