Access control systems have all but replaced traditional keys for modern apartment buildings. If you operate Arizona apartment buildings that have not yet transitioned to electronic access control, you're missing out on the next generation of loyal tenants. Here's why you want to do all you can to attract them, and how access control can help.   
They're arriving in droves.
For a solid 10 years, Phoenix was the fastest-growing big city in America — and much of that growth is thanks to the millennial generation. In fact, the last U.S. Census revealed that nearly 6,000 millennials migrated to Phoenix in 2019, and CNBC recently reported that the trend of millennials moving to Phoenix continued during the pandemic. If you manage an apartment building, the bulk of your tenants are bound to be millennials and their even younger successors, Gen-Z.
They're long-term lesees. 
The young professionals moving to Phoenix are the upwardly mobile, long-term lesees every building owner wants. ISC News reported that in one survey of 1,000 adults aged 23-39, 72% had long-term plans to live in an apartment building six months or longer. Among that group, safety and security were registered as top priorities. Unfortunately, only 26% of them reported feeling secure in their current buildings.
They're flooded with income. 
This generation of tenants is also loyal to delivery services for food and retail; some of them receive deliveries daily. That shows they're flooded with disposable income, which means they're entirely capable of covering their responsibilities as tenants. However, the survey also showed that 39% of them reported packages being stolen from their front doors in the recent past. Access control systems can help reduce the risk of packages being stolen, when only authorized people have the ability to enter resident-only areas of the building. 
They're excited about access control. 
The same survey of 1,000 Gen-Z and millennial adults revealed that 52% percent are interested in smart technologies for keyless entry to the home, whether that means smartphone credentials, PIN codes, biometrics, key fobs or card credentials. All of these are modes of electronic access control designed to provide better apartment security.
In fact, three out of five respondents said they would be more likely to live in a building that offered them mobile access control to their units. 
One of the best ways to promote your building to the next generation of young professionals is by having electronic access control installed. To discuss our advanced, cloud-based access control systems for Arizona apartments with young tenants, call Accel Communications. We can answer your questions about this powerful marketing tool for attracting millennial renters. 
ABOUT Accel Communications, Inc.
Accel Communications has operated in the Greater Arizona area since 1990 as a full-service security alarm company that sells, installs, monitors, and services fire and security systems. They are the leader in Honeywell Fire, Brivo Web-Based Access Control, Eagle Eye and Flexwatch CCTV camera systems, and DMP Security.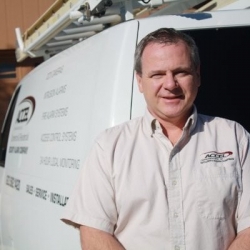 Latest posts by Evan Gavrilles
(see all)