In recent months, there have been numerous armed robbery incidents throughout the business community in Phoenix. Because video security systems can help protect your business if it's targeted by criminals, now is the right time to ensure you have adequate video surveillance coverage. If you have cameras installed, it may still be time for an upgrade to cloud video storage so you can check cameras more quickly and access footage on demand. 
Concerns About Upgrading Video Surveillance 
Cost is one of the top concerns among business owners who are hesitant to upgrade their video surveillance. That's understandable, but there's good news: In most cases, there's no need to replace your existing cameras when you upgrade. 
At Accel Communications, we can leverage the cameras and video surveillance infrastructure you already have. Our solutions can integrate with thousands of digital and analog cameras from the leading manufacturers you know and trust. If you're happy with your current cameras, you can protect your investment by keeping what you have; any new investment will be whatever is needed to convert to the cloud and maximize the power of your network. 
Adding Analytics to Video Security Systems
Another reason to upgrade your video surveillance is to add video analytics so that your cameras can become valuable tools for business intelligence. Whether you want to know how many people are waiting in line or you'd like to get an alert when a crowd of potential loiterers is gathering outside, video analytics can give you those insights on demand.
Accel Communications can develop video analytics for your system, only adding what you need while using your existing cameras as well. 
Upgrading your video surveillance is a critical step to protect your business from the rash of criminal activity taking place throughout Phoenix. Video security systems are a specialty of ours at Accel Communications; call us today to learn more about our easy video surveillance upgrade options. 
ABOUT Accel Communications, Inc.
Accel Communications has operated in the Greater Arizona area since 1990 as a full-service security alarm company that sells, installs, monitors, and services fire and security systems. They are the leader in Honeywell Fire, Brivo Web-Based Access Control, Eagle Eye and Flexwatch CCTV camera systems, and DMP Security.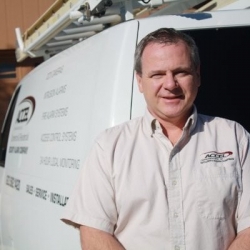 Latest posts by Evan Gavrilles
(see all)