The financial sector is more vulnerable to security breaches than nearly any other industry, and our local region has experienced it firsthand recently. On March 25, the FBI took a serial bank robber off the streets of Phoenix after he hit four local bank branches from November through March. Bank robberies are not antiquated occurrences; they still happen, and the perpetrators have become more shrewd at carrying out the crime.
To protect financial institutions throughout Arizona, Accel Communications offers a variety of banking security systems. Our solutions include the following. 
ATM Security Solutions
An Arizona State University Center for Problem-Oriented Policing study revealed that most ATM robberies: 
Are committed by a lone offender against a lone victim. 

Involve using some type of weapon.

Occur at night, with the highest risk between midnight and 4 a.m.
Additionally, about 15% of these crimes result in the victim being injured. All things considered, ATM robberies are not frivolous crimes; they're dangerous, and banks need to do what they can to protect their account holders. With our ATM security solutions, branches can greatly reduce incidents of ATM robberies and keep customers safe. Ask us about these powerful systems when you call us for a banking security consultation. 
Video Surveillance
In this sophisticated criminal climate, it's not enough to merely have security cameras. Banking security requires a higher level of video surveillance that integrates with the intrusion detection system and access control. This will ensure that any security event that triggers an alert can correspond to the timestamp on the video surveillance that captures it.
At Accel Communications, all our banking security systems can integrate with one another seamlessly to provide this essential information.  
Access Control
Banks are not immune to internal crimes of theft and fraud. A 2018 Association of Certified Fraud Examiners (ACFE) report found that the financial services sector is especially hard-hit by internal fraud — in other words, crimes committed by a bank's own employees. One way financial institutions can reduce their risks of falling victim to internal crimes is with access control. An electronic access control system requires employees to use an activated credential to enter a locked area; this protects the area while giving the employer documentation of who entered it, and when. 
Financial institutions need protection, and Accel Communications can provide it. To discuss our banking security systems for Arizona institutions, call us for a complimentary consultation. We look forward to helping you. 
ABOUT Accel Communications, Inc.
Accel Communications has operated in the Greater Arizona area since 1990 as a full-service security alarm company that sells, installs, monitors, and services fire and security systems. They are the leader in Honeywell Fire, Brivo -Based Access Control, Eagle Eye and Flexwatch CCTV camera systems, and DMP Security.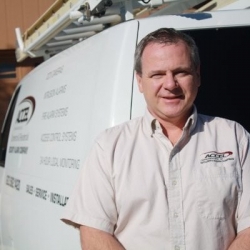 Latest posts by Evan Gavrilles
(see all)