In addition to alerting your organization to intrusion from the outside and occupational fraud from within, our security cameras can transform your video surveillance system into a critical business intelligence platform. Here is some information on the value of business intelligence, and how your small business can use it to an advantage. 
Why Business Intelligence Matters
Business intelligence refers to information gathered via specific strategies and technology for the purpose of improving business processes. The value of business intelligence includes its ability to help enterprises detect patterns and discover new opportunities. There are many key performance indicators (KPIs) that can be uncovered with business intelligence, including metrics for finances, marketing, customer service and more. 
The Business Intelligence Market 
There is real data that demonstrates this value. In 2020, the global mobile business intelligence market was valued at $8.8 billion, and the worldwide business intelligence software market was projected to reach $17.6 billion by 2024. Plus, business intelligence is not just for large enterprises;
one study revealed that more than 46% of small businesses use business intelligence tools as a core element of their business strategy. 
Business Intelligence Functions of Video Surveillance
Some of the most critical business intelligence functions can be deployed through a quality video surveillance system. Accel Communications can recommend cameras that are primed to be transformed into devices for the gathering of business analytics that lead to solid KPIs. Ask us about cameras that can detect: 
Line Crossing
This gives you the ability to create an invisible, virtual line anywhere on the premises for security purposes. When the line is crossed by a person or object (i.e. a vehicle), you'll receive an alert to what has happened along with a video clip of the line crossing. When you generate a report in the system to see the volume of line crossing for a specific time period, that business intelligence can inform your decisions on the placement of merchandise, equipment and other business assets on the property. 
Object Counting
Although the function is called object counting, it could be more accurately described as "people counting." Object counting counts the number of people going in and out of the building or other monitored area. As a business owner, you can generate reports that show how many people occupy the building on a weekly, daily or hourly basis. Then, you can use this intelligence to guide your decisions on everything from service capacity, to business hours, to staffing. 
At Accel Communications, we have cameras that can perform these functions in addition to other business intelligence functions: loitering detection, intrusion detection and more. To learn how you can take advantage of a video surveillance upgrade that meets your business intelligence needs, call Accel Communications today. We look forward to assisting you. 
ABOUT Accel Communications, Inc.
Accel Communications has operated in the Greater Arizona area since 1990 as a full-service security alarm company that sells, installs, monitors, and services fire and security systems. They are the leader in Honeywell Fire, Brivo Web-Based Access Control, Eagle Eye and Flexwatch CCTV camera systems, and DMP Security.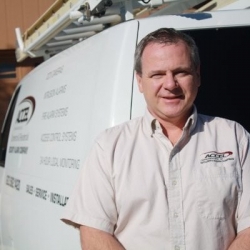 Latest posts by Evan Gavrilles
(see all)