Nearly every business with a storefront will be confronted with the problem of loitering at some point. Unfortunately, the commonality of loitering doesn't make it a trivial matter. Loitering is more than just a nuisance; when it's a persistent issue, loitering can prevent patrons from entering not just once or twice, but permanently. This can create a devastating domino effect and lead to a business ultimately shutting its doors for good.  
Definition of Loitering in Arizona
Arizona has a broad definition of loitering that encompasses many unwanted behaviors outside of a business, including intentionally: 
Being present in a public place in "an offensive manner" or a manner that disturbs the public peace. 

Engaging in unauthorized commercial transactions (the sale of merchandise or services) in front of a facility. 

Gambling with cards or dice in an unauthorized public place. 

Refusing to leave a school campus with no legitimate reason or relationship that would warrant one's presence. 

Refusing to leave a transportation facility "after a reasonable request to cease." 
When law enforcement gets involved, loitering in Arizona is classified as a misdemeanor charge. 
How Video Can Detect Loitering 
Video surveillance is a useful tool for loitering detection when the cameras are equipped with video analytics sensors. A camera that detects loitering is augmented with a video analytics server, powered by artificial intelligence, that tracks unique targets in the recording.
This AI tracking can determine when a specific target (person or vehicle) has remained in the monitored area for a suspiciously long period of time. 
How Video Filters Loitering Events 
Because their algorithms are intelligent enough to avoid being misled by multiple passing targets, the cameras can rule out most non-loitering events from triggering an alert. The administrator, whether it's the business owner or another authorized manager, will receive a loitering alert as soon as the camera determines it has captured a loitering event. 
If loitering happens outside your business, it's time to tackle the problem head-on with more effective video surveillance. At Accel Communications, we have security cameras to help businesses fight loitering in Arizona. Whether you're new to video surveillance, or need an upgrade to cameras with loitering detection, call us today to learn more. 
ABOUT Accel Communications, Inc.
Accel Communications has operated in the Greater Arizona area since 1990 as a full-service security alarm company that sells, installs, monitors, and services fire and security systems. They are the leader in Honeywell Fire, Brivo Web-Based Access Control, Eagle Eye and Flexwatch CCTV camera systems, and DMP Security.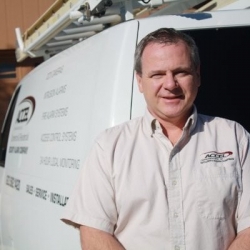 Latest posts by Evan Gavrilles
(see all)