Summer has been a time of heightened crime throughout the apartment complexes of Arizona. From a robbery attempt at a Tucson complex in June, to teens opening fire on police officers after committing a burglary in Glendale, there have been numerous crimes of concern in local multi-housing this summer. 
That's why right now is a good time for apartment managers to consider which security upgrades may help fortify their buildings and protect their tenants. If your complex does not yet have these installed, we recommend making these improvements this summer.  
Monitored Video Surveillance 
When a tenant experiences a crime onsite, no building manager wants to break the news that there were no cameras around to capture the incident. Having cameras installed on apartment complex properties, including in "hiding spots" like stairwells, is critical. However, that's just a starting point for video surveillance. If someone makes a claim that a crime occurred, scrolling through hours of footage to find it is not in the best interest of management or residents.  
For a truly proactive video surveillance approach that saves time and gives tenants the protection they deserve, the cameras should be monitored 24/7 by a UL listed central station. This ensures that a live agent will dispatch law enforcement when there's a verified crime in progress, which can escalate police response and get officers to the property sooner. 
Supplemental Access Control 
If management can afford to staff a live security guard or "courtesy officer" at an apartment complex, that can be one way to deter those with criminal intentions from acting. But if $16.50 per hour (the average security guard wage in Arizona, according to Indeed.com) is not in the budget, there's another option that may prove to be even more effective. 
With an access control system installed outside residential units and in common areas, managers can get better control over building security with a fully scalable service. And if it is in the budget to have both, access control can provide the building supplemental protection.
With both measures in place, your security staff can focus on their patrol areas knowing all parts of the building are covered. 
Call Accel Communications this Summer
In summer, when tenants have more visitors and mischief makers are more likely to be in the area at night, monitored video surveillance and access control systems can be especially good apartment security systems. For more information on these apartment security measures for your Arizona complex, contact Accel Communications. We'll be glad to answer your questions. 
ABOUT Accel Communications, Inc.
Accel Communications has operated in the Greater Arizona area since 1990 as a full-service security alarm company that sells, installs, monitors, and services fire and security systems. They are the leader in Honeywell Fire, Brivo Web-Based Access Control, Eagle Eye and Flexwatch CCTV camera systems, and DMP Security.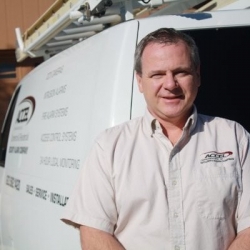 Latest posts by Evan Gavrilles
(see all)