All sectors have been impacted by the economic fluctuations of the past few years, including the construction industry. If you own a multi-housing building in Arizona, construction companies have your livelihood in their hands. Fortunately, their industry is experiencing a rebound in the post-pandemic era.  
Creative Solutions Help Contractors 
Evidence of a construction renaissance is more than hearsay; it's backed by hard data. For one, the Bureau of Labor Statistics (BLS) reports that 60,000 construction jobs have been added nationwide. Furthermore, construction workers have benefited from the highest hourly pay increase in 40 years. 
Locally, Arizona contractors are reporting that despite the fact that Phoenix is experiencing some of the highest inflation in the country, the industry is benefiting from getting creative with building materials and communicative with their customers. 
One report states that creative solutions have included cost sharing (such as price adjustment clauses in a contract) and encouraging customers to pay for materials early on in projects, since the price of those materials could spike at any time. 
Finding Ways to Save and Grow
For contractors responsible for building multi-family housing in Arizona, there are some ways to save in the current climate. While raw building materials may have spiked in price, many of the systems that can be included in these projects have not. For example, electronic security systems have remained relatively steady in price during the pandemic. The viral outbreak actually triggered massive growth for both access control and video surveillance; from 2020 to 2026, the market for video surveillance systems is expected to grow at a compound annual growth rate of 9.31%. The reason is simple: After the uncertainty of the past few years, tenants value secure buildings more than ever. 
So while the construction industry continues to rebound amid the challenges of inflation, there's good news: First, building owners can expect their security investments to stay relatively stable. Second, they can also expect to reap more profits because of the secure environments they provide with access control and video surveillance. To learn more about access control and video surveillance for your next Arizona multi-housing project, call Accel Communications. We will be glad to answer your questions. 
ABOUT Accel Communications, Inc.
Accel Communications has operated in the Greater Arizona area since 1990 as a full-service security alarm company that sells, installs, monitors, and services fire and security systems. They are the leader in Honeywell Fire, Brivo Web-Based Access Control, Eagle Eye and Flexwatch CCTV camera systems, and DMP Security.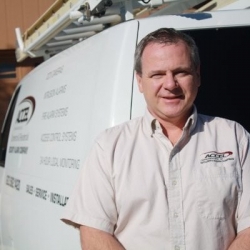 Latest posts by Evan Gavrilles
(see all)