When many people think about intrusion detection systems, such as those that use camera monitoring, glass breaking detection, remote access, motion detection, or other technologies, they perceive it to be a singular use, one-dimensional investment that will make a loud noise or alert you when an event is occurring. But actually, an intrusion detection system can do a lot more for your business. Here are four reasons we consider to be very impactful. 
1. It Reduces Personnel Risk
When you integrate an intrusion detection system through Accel Communication, you are removing the need for a security or staff member to intervene in an active intrusion situation. Instead, the security system can provide live footage of the event while your staff remains at a safe distance. With the proper safety protocols in place, evacuations or lockdown procedures can begin while your monitoring team dispatches necessary law enforcement and first responders. 
2. It Reduces Negative Health Effects
Security personnel are expected to live, on average, 15 years fewer, according to a report from the International Security Ligue. Here is an excerpt from a report they released: 
In 2018, data released by the Office of National Statistics in the UK was startling. It said that the average security guard dies at the age of 62, when the average life expectancy in the UK is 79.2 years for men and 82.9 years for women. Of the 1,687 security guard deaths that were examined in the study, half were caused by heart disease and a quarter were from lung disease.
Security personnel deal with high stress situations every day, and stress is a leading cause of many chronic diseases, particularly those associated with the heart and lungs. The World Health Organization even referred to stress as the health epidemic of the 21st century.
By implementing intrusion detection at your business and reducing the need for your security personnel to actively respond to even some of the events, you can prevent long-term health effects. 
3. It Protects Inventory
Having an alarm or alert system associated with your intrusion detection means the likelihood of the individual abandoning their activities increases significantly. If an intruder believes a response is imminent, outside of a live security person responding, then they will believe that they do not have the time to fulfill their intentions in most cases. This is a great way to stop the intrusion before any losses occur or the situation escalates to a dangerous situation.
4. It Improves Productivity
Intrusion detection, particularly those coupled with camera systems, can help you get an idea of the typical workflow and process that is happening at your business. Creating heatmaps of activity or tracking the efficacy of routes in a warehouse are all good examples of ways that an intrusion detection system could improve your company's productivity. 
ABOUT Accel Communications, Inc.
Accel Communications has operated in the Greater Arizona area since 1990 as a full-service security alarm company that sells, installs, monitors, and services fire and security systems. They are the leader in Honeywell Fire, Brivo Web-Based Access Control, Eagle Eye and Flexwatch CCTV camera systems, and DMP Security.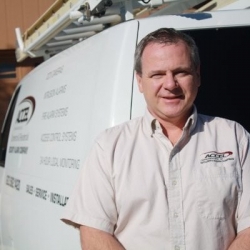 Latest posts by Evan Gavrilles
(see all)