Internal theft is a crime often associated with the retail and food service industries. However, professional sectors like finance are extremely hard-hit by incidents of internal theft and occupational fraud committed by employees. But what constitutes fraud, and how can the right banking security systems help with its prevention? Here are the answers.
What is Fraud in Banking?
Technically, fraud is any activity that relies on deception in order to achieve a gain. But it becomes a crime when the act involves knowingly lying in order to deprive a person or organization of their money or property. In the context of the banking environment, fraud is lying in order to steal money from a financial institution. It often goes hand-in-hand with embezzling, the legal term for stealing from someone who has entrusted you to manage their funds. When an employee commits this act, it is considered occupational fraud.
Occupational Fraud in Banking
Occupational fraud is a major problem in the finance sector. The FDIC reports that more than 50% of all bank fraud and embezzlement cases handled by the FBI are the result of occupational fraud from within an organization. It is usually committed by employees with granular knowledge of internal processes and systems — people who know where the vulnerabilities lie, and see an opportunity to use that knowledge to defraud the organization. Their fraudulent acts may include misappropriation of assets, falsifying account records or skimming funds from account holders.
How Banking Security Systems Can Help
There's no way to guarantee an institution won't be hit by occupational fraud, but having the right banking security systems can help reduce the risk. Here are the two systems we recommend most.
Access Control
Having an electronic access control system installed can prevent unauthorized employees from entering areas of the bank that are restricted to those with higher security clearances. Likewise, the system can require authorized employees to swipe their credential in order to enter the area. This puts a timestamp on each employee's access to each protected area, so that managers will know who entered, and when.
Video Surveillance
When a video surveillance system is integrated with your access control, it will be easy to cross check your access control records with timestamped video.
These systems can work together seamlessly to monitor employees who handle customer accounts and other financial assets in an institution.
Reducing the Risk of Occupational Fraud in Banking
When employees know they're being closely monitored with reliable banking security systems, the risk of occupational fraud can drop dramatically. Accel Communications is ready to help Arizona institutions with these systems; if your institution is in need of them, call us this summer for a complimentary consultation.
ABOUT Accel Communications, Inc.
Accel Communications has operated in the Greater Arizona area since 1990 as a full-service security alarm company that sells, installs, monitors, and services fire and security systems. They are the leader in Honeywell Fire, Brivo Web-Based Access Control, Eagle Eye and Flexwatch CCTV camera systems, and DMP Security.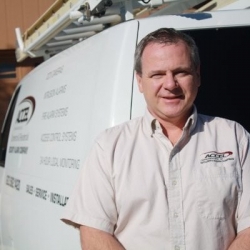 Latest posts by Evan Gavrilles
(see all)