Now businesses in the U.S. are beginning to adapt to the new normal that COVID-19 brought to the world. Facilities everywhere are changing policies and procedures and trying to find more efficient, safe ways to operate facilities with the health of visitors and employees in mind. Brivo products such as Brivo Onair, Brivo Visiter, and Brivo Mobile Pass now come with Facility Safety features to streamline and improve new access control processes for everyone onsite.
The Impact of Covid-19 on the U.S. Economy
Brivo studied the impact of COVID-19 on the U.S. economy using access control records and discovered that workplace attendance trends were the top indicator in the nation's economic output. Of every industry impacted, gyms, restaurants, services, and salons were the hardest hit. So, the country can recover, businesses must find ways to adhere to social distancing and best practices to combat the virus.
Facility Safety Features and Benefits
Facility Safe Features make it easier for businesses to follow social distancing guidelines and implement new processes and systems to make your facility safer. Here are some of the best features.
Personnel Control
Personnel control allows you to automatically suspend a user's access until they go through the screening checkpoint. It's the best way to leverage your security systems so that users get the appropriate access by following safety processes like screening checkpoints.
Perhaps part of the process is asking someone if they've tested positive for COVID-19 in the past two weeks. If an employee answers yes and swipes their badge, they are immediately denied access. Just like that, Brivo has helped you stop a potential threat before that person enters your facility.
User Contact Reporting
User contact reporting allows you to create targeted reports that identify users who may have come in contact with someone infected by the virus. You may have an employee that comes to work and later tests positive to COVID-19.  By filtering the access data by date and location, you can narrow down other people exposed to that employee.
Mobile Self-Screening
Another great Facility Safety Feature allows you to identify employees with COVID-19 symptoms before they can enter your facility and infect anyone else. Brivo Mobile Pass lets you enable self-screening for users to make it easy to comply with screening policies.
When an employee approaches a door and uses the app the first time that day, it prompts them to answer a health-related security question. Users can only gain access if they answer the question indicating that they meet all safety and health guidelines.
With Facility Safety Features, you can follow social distancing guidelines and protect the health and safety of visitors and employees. Brivo makes it easier to navigate a landscape where the most dangerous threat is invisible.
For more information on how Brivo security and safety features can help you, contact Accel Communications.
ABOUT Accel Communications, Inc.
Accel Communications has operated in the Greater Arizona area since 1990 as a full-service security alarm company that sells, installs, monitors, and services fire and security systems. They are the leader in Honeywell Fire, Brivo Web-Based Access Control, Eagle Eye and Flexwatch CCTV camera systems, and DMP Security.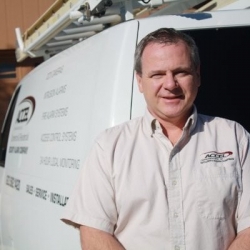 Latest posts by Evan Gavrilles
(see all)