The year 2020 has been a difficult one, to say the least, as COVID-19 disrupted how everyone in the world does business. Now companies everywhere must scramble to create safer processes, as going hands-free to stop the spread of the virus is the new way to do business today. There are several things to consider when choosing how and what to use to create a safer environment as whom it will involve.
Consider the Items Touched Regularly in Your Business
For most businesses, the items employees and visitors touch every day are the same. This list includes:
Checkout pads
Elevator buttons
ATM pads
Electronics like mice and keyboards
Door handles and knobs
Access control panels
Answer the Questions What, How, and Who
It's possible to make security improvements that help you achieve more than one goal as well as scaling requirements your security system needs to meet. You need to answer the questions of what, how, and who.
What are the best security solutions out there that meet your agency's needs? Think about how the product you want will fit in with your current security system and network environment. What security products and devices work the best with your current systems? Also, ask yourself who is going to support your IT department with upgrading software and dealing with future compatibility problems.
Thankfully, you can find security products that integrate with your legacy security system, which makes it much easier to install and implement new technology.
Choose an Experienced Security Integrator
New security products come out every day, and it can be difficult to choose the right components. That's why choosing an experienced integrator to help you reach your goal of hands-free security is vital. An experienced integrator has the knowledge and expertise to help you cut through the noise and choose the products that work best for your business.
Don't attempt to identify and install the right security solutions on your own. Rely on someone who is knowledgeable and can help you research, test, buy, and install the right security system for your needs.
For more information on how your business can go hands-free, contact Accel Communications today.
About Accel Communications
Whether you have a single facility or a multi-campus operation, Accel can design a technologically advanced and integrated system to fit your needs. We have superior installation and monitoring experience and specialize in comprehensive security solutions. We'd be happy to serve you.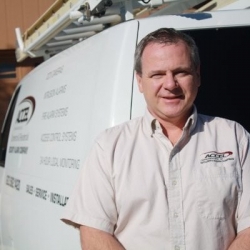 Latest posts by Evan Gavrilles
(see all)