As the COVID-19 pandemic continues to significantly affect the way businesses operate, companies try to find smarter ways to combat an invisible threat. The only positive takeaway is if businesses learn from these lessons to invest in resources and solutions that can mitigate future risks. Video surveillance offers better ways to do things and can help reduce the impact of future pandemics and catastrophes.
How Video Surveillance Manufacturers Have Prepared for Worst-Case Scenarios
For years, video surveillance manufacturers have tried to think in terms of the worst-case scenario businesses might face to help reduce risks while still streamlining operations. New tools and technologies allow companies to do much more with less. Businesses in every industry must maintain higher security levels while ensuring safer work environments. Here's how video surveillance can help.
Remote Applications Make It Possible to Manage Your Business from Afar
Thanks to advanced security technology, administrators and security managers can watch over businesses even from self-isolation. Mobile applications allow you to manage security operations remotely.
Cloud storage lets you manage, share, and review video footage from your security dashboard no matter where you are. You can even view live video feeds without having to go into work. Set up rules and notifications so you always know what's going on and share information easily with specific groups and people via email or text messages.
AI takes security to the next level by providing accurate detection of security incidents such as trip-zone, and line-crossing, perimeter breaches, and other suspicious activity. It allows you to streamline business activities while your security system gets smarter every time your surveillance system processes data. Using AI helps reduce false alarms and response times while providing more information that helps security managers improve responses to potential threats.
Intelligent video surveillance systems have proven invaluable in the healthcare industry during COVID-19. These systems help medical staff to review patient care practices in a much more efficient way. As a result, they can improve how they treat patients while still keeping everyone in the facility safe.
Also, the quality and coverage of security cameras have increased, allowing businesses to monitor and enforce social distancing guidelines to help reduce the spread of the virus. Video heat mapping helps provide an overview to identify recurring hot spots and problems in small spaces that would otherwise be overlooked.
Intelligent video surveillance systems are the solution to many COVID-19-related security issues. These systems only get smarter the more data they process, and they streamline business operations to increase efficiency. It's the perfect tool to keep employees and visitors safe and healthy.
About Accel Communications
Whether you have a single facility or a multi-campus operation, Accel can design a technologically advanced and integrated system to fit your needs. We have superior installation and monitoring experience and specialize in comprehensive security solutions.  We'd be happy to serve you.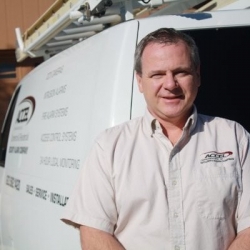 Latest posts by Evan Gavrilles
(see all)