Now more than ever, it's important for businesses to develop and implement policies and procedures that create a safe work environment for visitors and employees. COVID-19 makes this infinitely more difficult, but new security technology makes protecting your business easier.
Mobile Self-Screening Limits Unnecessary Health Risks Associated with COVID-19
Brivo Mobile Pass makes it easier to find user's who may have COVID-19 symptoms by enabling self-screening by sites or users. When someone already exposed to the virus enters your facility, it's too late.
With Brivo Mobile Pass, as a user approaches a door to gain access and opens the access app, they must answer one health-related security question. The door only unlocks for them after they complete the question indicating that they don't pose a risk to other employees and visitors.
Also, mobile access allows people to unlock doors, reducing the number of surfaces people touch to gain entry, making your facility more hygienic.
Control the Spread of COVID-19 with Personnel Control
Along with Mobile Pass, Brivo's Personnel Control takes security and safety to a whole new level. If you've created a new checkpoint to screen for COVID-19 symptoms and risks, ensure employees check-in with Personnel Control.
This feature automatically denies access to users who haven't passed through the security checkpoint. Maybe you added a screening question using Brivo's Mobile Pass. If an employee answers yes to a question indicating possible exposure to COVID-19, they are not allowed access, and the system notifies the security administrators. This forces employees to go through the checkpoint before they can go to work.
Brivo Visitor Reporting Screens Visitors for COVID-19
Worried one of your visitors may put you at risk of spreading the virus? Well, now you can reduce the risk with Brivo Visitor Reporting. This feature allows you to use your pre-existing visitor management process to screen visitors using simple questions.
Include questions that identify if visitors have traveled overseas or have possible symptoms of the virus before they enter your facility. If a visitor responds with an answer that puts your business, visitors, and employees at risk, the system sends an alert to the host. From there, the host can determine if the proper protocols are in place to grant or deny them access.
Brivo allows you to use your access control system to proactively address COVID-19 concerns and keep employees and visitors safe. It makes managing risks associated with COVID-19 easier as well as helps you reduce the spread of the virus.
About Accel Communications
Whether you have a single facility or a multi-campus operation, Accel can design a technologically advanced and integrated system to fit your needs. We have superior installation and monitoring experience and specialize in comprehensive security solutions.  We'd be happy to serve you.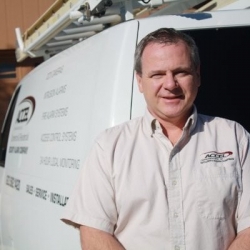 Latest posts by Evan Gavrilles
(see all)