In this extraordinary time, how can businesses welcome back employees and customers safely after so many months away? What needs to be done before the doors reopen, and is there technology that can help? In the guidance provided here, you may find some potential answers to these questions. Here are some pointers to get prepared for reopening.
Bring employees back strategically.
For many types of businesses, bringing all employees back at once is not the best strategy. Instead, consider bringing back those who are responsible for building security and information technology first. Those employees can do the footwork necessary in order to provide the safest environment possible. If new electronic security is being implemented, such as electronic access control or a visitor management system, these may be the workers you'll rely on to work with our technicians.
Bring everyone else back in phases.
Once the physical workspace is ready, other employees may begin coming back in phases to reinforce the prospect of a safe, cautious reopening. Depending on the footprint of the business and how many employees it has, starting with as little as 30% of the business' workforce may be the wisest strategy.
Another way to facilitate a safer workplace is to reduce the number of physical touchpoints on common surfaces: from faucets, to towel dispensers, to doorknobs. It's an investment in employee health to make these mechanisms contact-free if possible.
Control traffic by limiting access.
Even after employees have been reinstated to work onsite,  the traffic must be controlled with limited access to visitors. This can be done with electronic security solutions, such as an access control system that requires everyone who enters to have an active credential – or a visitor management system, which provides control over vendors and customers entering the site. If either of these sounds like a solution for your business, feel free to ask us for more information.
When it comes to keeping workers, employees and visitors safe, it's incumbent upon the business owner to go the extra mile. Fortunately, there are electronic solutions that can help. Contact Accel Communications to discuss what technologies we can provide.
About Accel Communications, Inc.
Accel Communications has operated in the Greater Arizona area since 1990 as a full-service security alarm company that sells, installs, monitors, and services fire and security systems. They are the leader in Honeywell Fire, Brivo Web-Based Access Control, Eagle Eye and Flexwatch CCTV camera systems, and DMP Security.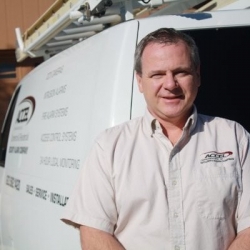 Latest posts by Evan Gavrilles
(see all)