As the COVID-19 pandemic continues to create challenges for businesses all over the world, more companies are starting to realize the importance of cloud-based security solutions. One study by MariaDB showed that 99 percent of companies worldwide said they were affected by COVID-19, and 84 percent think it's going to continue into 2021.
Forty percent of the businesses surveyed are accelerating the process of moving their companies to the cloud. And 51 percent are planning to move more components of their business to the cloud in preparation for future shutdowns associated with the virus.
It's clear that cloud-based applications are the way to future-proof your business.
Challenges Businesses Experienced Because of COVID-19
While the Coronavirus presented many challenges to businesses, there are a few that stood out, highlighting the need for more cloud-based solutions. When business owners could no longer work physically on-site, many tried to use their video surveillance systems to manage and view their business remotely. They soon saw significant problems.
First, using video surveillance systems this way overloaded the servers because of the many users trying to view video remotely. Many lost important features when they transitioned from desktop applications to mobile. Finally, there were significant cybersecurity concerns because traditional systems required open-port forwarding for remote access, and it left many security systems vulnerable to cyberattacks.
Cloud-Based Security Solutions Allow You to Leverage Powerful Analytics to Manage Your Business Remotely
Cloud-based security solutions such as access control allow you to manage everything online because these systems operate on the cloud. These systems store all your videos and data on the cloud and not on local servers.
Most cloud-based systems let you manage powerful analytics to manage your business when you can't be on site. For instance, line-crossing sends you alerts whenever someone enters a specific area from a predetermined direction.
Use the power of people counting to identify people that are coming and going over a set virtual line. This feature tells you how many people are inside a building to ensure that occupancy levels meet the social distancing guidelines. It can tell you exactly how many people have entered and exited as well as how many people are still inside.
These are just a couple of examples of how you can leverage analytics to help you manage your business from afar.
The critical take-away is that the effects of COVID-19 are likely not over. Businesses could face similar problems with different illnesses or situations that are currently unknown to us. So, future-proof your business by transitioning your security solutions to the cloud. For more information on cloud-based services and products, contact Accel Communications.
ABOUT Accel Communications, Inc.
Accel Communications has operated in the Greater Arizona area since 1990 as a full-service security alarm company that sells, installs, monitors, and services fire and security systems. They are the leader in Honeywell Fire, Brivo Web-Based Access Control, Eagle Eye and Flexwatch CCTV camera systems, and DMP Security.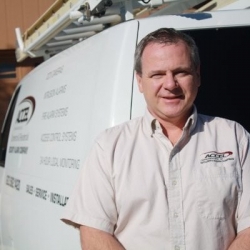 Latest posts by Evan Gavrilles
(see all)