The onslaught of COVID-19 on communities around the world means that we have a new normal now, and it's presenting business owners with new security challenges. If you're sheltering in place, you may not be able to check your building physically, so you need modern tools to help limit contact with alarm card readers and keypads.
Brivo has the access control solution that can help you monitor and manage your business from a distance and makes hands-free access easy. When businesses open back up, the technology is still helpful because the hands-free environment will continue to contribute to a healthy and safe environment for everyone.
1.      Guest Pass
Guest pass links make it possible for someone to access your building at preset times. You can set a date and time for when the person needs to enter, and the system sends a link to their phone. Authorized users can create and send these links from their Brivo mobile app, and Admins can create them from the control center.
Guest pass links are active for a set time frame. They're great for regularly scheduled maintenance, deliveries, and meetings.
2.      Lockdown
You can implement a lockdown plan quickly and easily, whether you're on-site or away. Activate lockdown based on possible scenarios in progress. It's simple to revert to normal access control when the lockdown plan isn't needed anymore. Authorized end-users can find this feature on the control center, or on a mobile device.
3.      Touchless Access Control
Contemporary access control systems have several features that let you go hands-free easily. There's no need to physically touch the card reader or keypad, try one of these methods instead:
Touch the reader with a covered body part like your elbow or arm or use an inanimate object like your phone
Install an automatic door unlock for a completely hands-free experience
Unlock the door from the app on your smartphone
4.      Remote Unlock
Use Brivo to unlock a door from anywhere, anytime. There's no need to run to the office to let someone in or for an unforeseen situation such as letting a delivery person drop off packages. It's a discretionary feature that administrators can make available on a mobile device, or through the control center.
5.      First Person In/Last One to Leave
Brivo makes it easy for administrators to set entry schedules. The doors remain locked until the first person arrives for work and unlocks the door during this time frame. It's a helpful feature for when the office isn't occupied during regular business hours for any reason. Users can utilize the last-to-leave feature to restore entry security settings if the office is vacant during the scheduled period.
For more information on how Brivo can help you manage your business during the COVID-19 pandemic, contact Accel Communications.
ABOUT Accel Communications, Inc.
Accel Communications has operated in the Greater Arizona area since 1990 as a full-service security alarm company that sells, installs, monitors, and services fire and security systems. They are the leader in Honeywell Fire, Brivo Web-Based Access Control, Eagle Eye and Flexwatch CCTV camera systems, and DMP Security.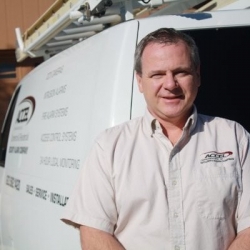 Latest posts by Evan Gavrilles
(see all)