With more than 3,000 new COVID cases in Arizona reported last week, it makes sense for employers to continue exercising some measure of caution when it comes to reducing touch points at their facilities. One way they can do that is by replacing their traditional doorknobs and locks with contact-free access control systems. Implementing a touchless access control solution can help your workplace stay up and running throughout the current phase of COVID while reducing the risk of infection transmissions onsite.
Touchless Access Control Options
If you're an employer looking for ways to minimize contact at your entry points, here are some touchless access control options we can recommend.
Automatic Door Unlocking
Automatic door unlocking is an exciting method of contact-free access control. When an authorized person approaching the door has been verified, whether through facial recognition or another touchless biometric technology, the door will automatically unlock and/or open for them. This hands-free experience is still an emerging method of access control, but it's a promising one for employers who want their employees to have the most low-risk way to enter the facility.
Employee Mobile Credentials
At present, this is perhaps the most popular touchless access control option — and, it has two options within it. The first involves employees swiping their own smartphones at the access control station, an option that many organizations find to be convenient and secure.
A second option involves employees entering a code into their smartphones to gain access. The code is stored on the employee's personal device; however, it can still be activated and deactivated by the employer from the employer's admin account.
Both of these touchless access control options, which use the employees\' own devices, are entrance methods employers can feel good about providing.
Employer Admin Account
Employers can manage their access control administrative accounts from anywhere, using any device with an internet connection. That includes their own computers, tablets and smartphones. All that's needed is a simple login to view the entire account, where the employer can:
Activate and deactivate employee credentials.
Review activity at each door on the premises.
View corresponding video surveillance footage.
Unlock doors remotely when needed.
Contact-free access control systems are a great way for employers to minimize the risk of infection at work as the pandemic continues to wind down. If you're an employer interested in touchless access control for your workplace, call Accel Communications for a complimentary access control evaluation.
ABOUT Accel Communications, Inc.
Accel Communications has operated in the Greater Arizona area since 1990 as a full-service security alarm company that sells, installs, monitors, and services fire and security systems. They are the leader in Honeywell Fire, Brivo Web-Based Access Control, Eagle Eye and Flexwatch CCTV camera systems, and DMP Security.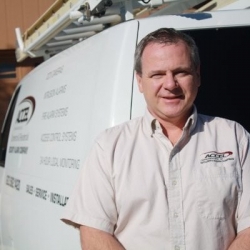 Latest posts by Evan Gavrilles
(see all)