For a security manager, it's important to have technology you can manage from anywhere — especially when it's technology that controls access to a secure building. For access control you can manage remotely, whether it's from home or your home base, you want cloud-based access control systems from Brivo.  We offer these systems at Accel Communications, because we want to put the power in your hands to manage your access control from wherever you are.
What Access Control Management Entails
What does managing an access control system entail? The essential tasks of managing access control are:
Adding new users – Adding users to the system can be simply done, including taking new user photos directly from your own smartphone camera.
Granting user access – Whether it's employees, vendors or paying members, the access control manager will need to activate their badge credentials on their first day of authorization.
Opening doors – Additionally, specific users can be granted or denied access to doors within the building. Doors that stay locked can be opened when an authorized badge is swiped.
Printing badges – Badge credentials must be printed for authorized users and issued, whether the access control manager issues to the person directly or hands the badges off to HR for distribution.
Setting schedules –  Authorized individuals can be given access only during a pre-approved schedule. When shifts change, schedules can be changed on demand.
Turning off access – Deactivating badges is the quick, easy and secure way to turn off user rights when an employee, vendor or member relationship is terminated.
Viewing activity – When the access control system is integrated with video surveillance, the manager can view footage that corresponds with each access report.
With a Brivo access control system, you can do any of these essential access control management tasks from any device with an internet connection — including your own computer, tablet or smartphone. There are no additional servers to install, and no new software to implement.
Your dedicated workstation is no longer the only place to manage building security; now, you can focus on it from literally anywhere.
How We Focus on Your Access Control
Of course, managing building access control from your own device doesn't mean you're on your own. Accel Communications offers professional services that include thorough training before deployment and 24/7 support after. We do everything we can to make sure your building access control system is reliable and friendly for your users.
To discuss how you can manage an access control system from anywhere with technology and support from a professional security integrator in Phoenix, call us at Accel Communications today. We service the entire Phoenix, AZ region.
About Accel Communications Inc.
Accel Communications has operated in the Greater Arizona area since 1990 as a full-service security alarm company that sells, installs, monitors, and services fire and security systems. They are the leader in Honeywell Fire, Brivo Web-Based Access Control, Eagle Eye and Flexwatch CCTV camera systems, and DMP Security.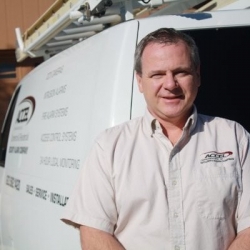 Latest posts by Evan Gavrilles
(see all)