There has been tremendous growth in the electronic security industry throughout the pandemic, as more organizations have become concerned about the breaches of their buildings and assets. With so many new accounts going online, the need for backing up security system monitoring data continues to deepen.
Accel Communications has that covered, and our customers are reaping all the benefits. If you're a new customer or you have not yet heard about the measures we take to protect your data and signals, take a moment to learn about what we provide.
Automatic Monitoring Software Backups
Our security alarm monitoring software systems automatically perform backups for our entire customer database every four hours. If you are our customer, this is what will be backed up for you six times per day:
All your security account data.
Any account changes you have made.
Your entire security account history logs.
In addition to these backups throughout the day, all security alarm monitoring data is backed up to CD ROM every 3 months so that a hard copy of your data is retained.
Secure Signals in Any Weather
In a state known for weather extremes that can cause power failures, it's important to ensure our customers will have a secure alarm signal no matter what. We do this by backing up our monitoring service with a failsafe power supply: a pair of 45kw generators and a 40kw Liebert Series 300 UPS.
In the event of a power outage, this airtight protection ensures your security system monitoring will not be interrupted. All of this is in addition to the redundant computers and secured telephone lines that help us deliver outstanding security system monitoring to businesses throughout Arizona.
To discuss how your organization can get better security system monitoring, contact Accel Communications to discuss your security technology needs. We will be happy to answer your questions.
ABOUT Accel Communications, Inc.
Accel Communications has operated in the Greater Arizona area since 1990 as a full-service security alarm company that sells, installs, monitors, and services fire and security systems. They are the leader in Honeywell Fire, Brivo Web-Based Access Control, Eagle Eye and Flexwatch CCTV camera systems, and DMP Security.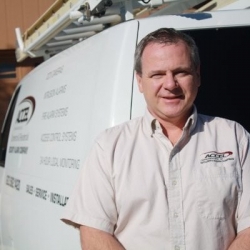 Latest posts by Evan Gavrilles
(see all)