Some alarm monitoring providers dictate the terms of your account to a stringent degree. At Accel Communications, we know our business security customers are smart enough to make their own choices. That's why we make sure you get to choose how your security alarm monitoring is managed. Here are some decisions we leave up to you.
Access Permissions
No business owner can be onsite all the time. Fortunately, you have employees to fill the gaps. If you have multiple managers or administrators, we can grant them permissions to your security alarm monitoring account based on your specific instructions. By giving different levels of access to different users, you can decide which managers, customer service agents, IT staff or maintenance crew can:
Have access to the account information they need.
Add messages into your account activity.
Edit the alarm monitoring information.
Whoever needs access can have it. It's your choice.
Dispatch Procedures
When we receive your alarm signal, we quickly verify your emergency and dispatch law enforcement to the scene. However, you may have preferences about the procedure. Some clients prefer that we call the responsible parties (yourself or your managers) before dispatching police, while others want us to call police first no matter what. We give you that choice when setting up your account.
Another option is to give us a call list featuring specific contacts for each time of day; this can ensure we call the person who is currently on shift. Whatever your preference, we can hard code it into your account so our operators can act accordingly.
You're in business for yourself to stay in control. We help you maintain that control when it comes to your business security. To discuss your alarm monitoring permissions or procedures, call Accel Communications today.
ABOUT Accel Communications, Inc.
Accel Communications has operated in the Greater Arizona area since 1990 as a full-service security alarm company that sells, installs, monitors, and services fire and security systems. They are the leader in Honeywell Fire, Brivo Web-Based Access Control, Eagle Eye and Flexwatch CCTV camera systems, and DMP Security.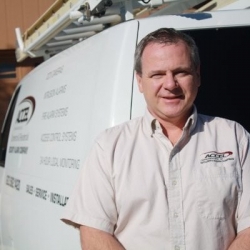 Latest posts by Evan Gavrilles
(see all)