Every year, security technologies should incrementally improve to align services with the needs of the public. Fortunately, video surveillance has met expectations for 2022. Here are the trends we can expect to see in that space over the next year.
More Options for Users
Personalization is paramount in all B2B services, including video surveillance. In 2022, we'll see that personalization materialize in the form of:
Pay-per-use. Also known as the pay-as-you-go or PAYG model, this will eventually become the standard for video surveillance — just as it has for other technologies.
User programming. In 2022, it will be the user who decides when it's time to upgrade resolution, downgrade retention and add or delete specific video analytics.
New analytics. In recent years, we've seen new analytics emerge: people counting, line crossing, loitering detection and alerts for camera tampering. In the new year, we'll start seeing even more.
More Intuitive AI
Artificial intelligence is most effective when it reinforces the user's intelligence and replaces manual work. In 2022, that's what the AI in video surveillance will be able to do. In sectors from healthcare to education, daily operations will be improved and security will be boosted.
Users will be able to detect prohibited activity on their campuses, from criminal mischief to banned substance use.
There's no limit to what the next generation of intuitive AI can do.
More Business Intelligence
The labor shortage has impacted some industries indelibly, such as retail, restaurant and hospitality. These businesses need to continue delivering quality service to customers in spite of shortened staffs, and video surveillance can help. Managers will be able to see up close what servers need to be trained on, where the high traffic areas are, and other important business intelligence. And because the surveillance is stored in the cloud, real-time alerts can go out when specific events trigger them.
In the new year, video surveillance can deliver more benefits to businesses like yours. To discuss advanced video surveillance, monitoring and analytics, contact Accel Communications. We look forward to answering your questions.
ABOUT Accel Communications, Inc.
Accel Communications has operated in the Greater Arizona area since 1990 as a full-service security alarm company that sells, installs, monitors, and services fire and security systems. They are the leader in Honeywell Fire, Brivo Web-Based Access Control, Eagle Eye and Flexwatch CCTV camera systems, and DMP Security.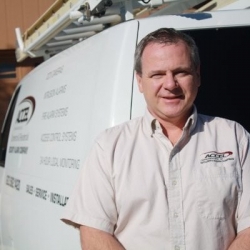 Latest posts by Evan Gavrilles
(see all)