In the age of extreme cautiousness due to COVID concerns, employers are facing the challenge of providing contact-free ways to grant access to their facilities. Fortunately, that technology is here.
Touchless Access Control Options to Consider
For employers concerned about viral transmission from access control and door contact, here are some touchless access control options to consider.
Mobile Credentials. One of the most popular new access control technologies is the mobile credential. With this, employees swipe their own smartphones at the access control station or enter a code into their phones to gain access. Despite the access credential being stored on the employee's device, it can still be activated and deactivated by the employer.
Automatic Door Unlocking. A totally hands-free experience is also available with an automatic door unlocking mechanism. With this, the mechanism automatically unlocks when an authorized person has been verified. Ask us for details on this emerging access control technology.
Mobile App Access. A bit different than the previous two methods, mobile app access requires users to download an access control app to their smartphones. Then, they use that app every time they need access to a protected door. Employers can still activate and deactivate employee credentials at will.
Employers Retain Control
With any of these touchless access control options, employers can still manage access from anywhere. That includes such important functions as viewing door activity and video footage, changing the rights of employee users, and unlocking doors remotely.
COVID has forced everyone to rethink how we manage building access; fortunately, contact-free access control technology is here. To learn more about touchless access control for your workplace or facility, contact Accel Communications today.
ABOUT Accel Communications, Inc.
Accel Communications has operated in the Greater Arizona area since 1990 as a full-service security alarm company that sells, installs, monitors, and services fire and security systems. They are the leader in Honeywell Fire, Brivo Web-Based Access Control, Eagle Eye and Flexwatch CCTV camera systems, and DMP Security.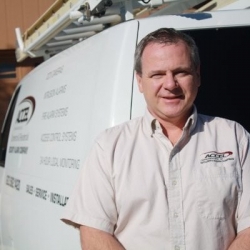 Latest posts by Evan Gavrilles
(see all)