There are important benefits to having a locally owned and operated security integrator. If your facility is in the greater Phoenix area, we are just a phone request away anytime you need us to come to your site. But what about those times when you aren't at your Phoenix site? That's okay too, because of our Anywhere Anywhere approach.
Manage One Door or Thousands
We proudly use Brivo Online Access Control Systems, which are among the most user friendly options in electronic access control and can be implemented at multiple sites for the same administrator. If you administer access control for a large organization with thousands of doors to protect, the Access Anywhere approach lets you manage access to each of those doors through one secure online portal. The sites don't have to be on the same schedule; buildings in different time zones can be managed according to the needs of each location.
What Administrators Can Accomplish
When you take advantage of our Access Anywhere approach to managing multiple buildings in various locations, you'll be amazed by what you can accomplish. Imagine the convenience of using a single login to:
View door activity
Watch video footage on demand
Change user rights quickly
Unlock doors
Grant temporary passes
Add new users to the system
Create new user profiles (including a photo)
What Users Will Appreciate
The Access Anywhere Approach has major advantages for users as well. As you manage systems remotely from wherever you happen to be, users at each location will have the ease of entering properties and buildings with a single click. If they are required to enter multiple facilities, you can grant them that access with no effort on their part.
Remember: Enhancing user experience equates to enhancing employee satisfaction. Giving your users a great access control experience is good for the health of your organization.
At Accel Communications, we're proud to add value to your organization\'s access control experience with the Access Anywhere approach. To learn more about this, call us today for a consultation. We look forward to speaking with you.
ABOUT Accel Communications, Inc.
Accel Communications has operated in the Greater Arizona area since 1990 as a full-service security alarm company that sells, installs, monitors, and services fire and security systems. They are the leader in Honeywell Fire, Brivo Web-Based Access Control, Eagle Eye and Flexwatch CCTV camera systems, and DMP Security.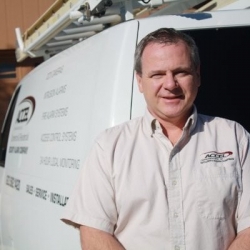 Latest posts by Evan Gavrilles
(see all)