In the post-COVID business climate, companies are downsizing all over the Phoenix metro area. If your business is one of them, you need tools that can make up for the limited IT support you have now. One of those tools is Access Brivo Onair, which is a security platform that's ideal for security managers with smaller IT staff — especially if they manage multiple buildings or properties, as many administrators do. If this describes your scenario, here are some advantages Access Brivo Onair can provide.
Supplementing IT Staff
Your IT staff may be limited, but your building security doesn't have to suffer. The Access Brivo Onair platform can help security managers keep close control over building traffic, manage access points and monitor other important aspects of building security. Best of all, it's easy to access from any internet-connected device; whether the manager is using a personal smartphone or a company-issued device, the platform can be run from anywhere. You may not have a full IT workforce onsite, but you can still have the optimal building security your employees and occupants deserve.
Eliminating Drains on Resources
With this remote access management platform, there's no more need to worry about these drains on IT and administrative resources:
Rekeying doors when credentials are misplaced.
Chasing down terminated employees for their credentials.
Making trips to the site to unlock doors for temporary workers.
Visiting multiple locations to inspect access points.
Overseeing upgrades, backups and frequent maintenance.
A platform like this is truly turnkey, because it eliminates these time-draining obligations. It's exactly what's needed in a business climate marked by high demands on time and lowered workforces.
Cutting Costs to Support the Workforce
What if your business still has a full IT force? Access Brivo Onair can still be helpful. It's outstanding for businesses that are retaining their staff, especially when cost cutting is required to hold onto as many workers as possible.
If you're ready to explore access management solutions for your business, Accel Communications is ready to help. Call us today to inquire about this outstanding access management platform.
ABOUT Accel Communications, Inc.
Accel Communications has operated in the Greater Arizona area since 1990 as a full-service security alarm company that sells, installs, monitors, and services fire and security systems. They are the leader in Honeywell Fire, Brivo Web-Based Access Control, Eagle Eye and Flexwatch CCTV camera systems, and DMP Security.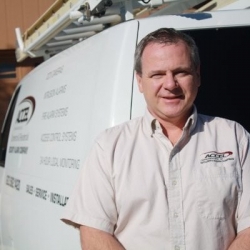 Latest posts by Evan Gavrilles
(see all)