The Phoenix metro area ranks #3 in the nation for new apartment construction, and the region is #1 in rent growth for 2021. Those numbers make it clear that contractors are staying busy constructing the buildings your property management company will run. But once construction is finished, you need to remove the contractor's access for the security of the building — and, chances are, you don't have time to chase them down for their access cards.
An Easier Way to End Contractor Access
When you use the Access Brivo Onair system, you can end temporary contractor access to your building quickly and conveniently. There's no need to send someone to the contractor to collect their access cards. Instead, you can log into your secure dashboard to deactivate contractor access on demand. Best of all, you can do it from anywhere. That's the beauty of this web-based portal.
Prior to this technology, property managers would be forced to rekey buildings when a contractor was unreachable, or reissue cards when a contractor's employee lost theirs. With the Access Brivo Onair system, that's all in the past.
Temporary Access for Subcontractors
Once the building is complete, you won't have contractors in need of daily access to the building. However, there will be some jobs your in-house maintenance staff simply can't take on — and when that happens, you'll need a way to let your subcontractors in temporarily.
Access Brivo Onair lets you do that, by unlocking doors of the property the moment you push a button. There's no need for you to be onsite to let temporary workers in; this saves time, cuts costs and allows you to stay on task as you manage all your properties. When the workers leave, the doors can stay locked; that means no security risk after the job is done.
If you're a busy property manager, you have enough stops to make in a day. With the Access Brivo Onair System, you can make sure going to a site to manage contractor access stays off your to-do list. For this and other access control solutions that make sense for today's property management needs, call Accel Communications. We look forward to helping you.
ABOUT Accel Communications, Inc.
Accel Communications has operated in the Greater Arizona area since 1990 as a full-service security alarm company that sells, installs, monitors, and services fire and security systems. They are the leader in Honeywell Fire, Brivo Web-Based Access Control, Eagle Eye and Flexwatch CCTV camera systems, and DMP Security.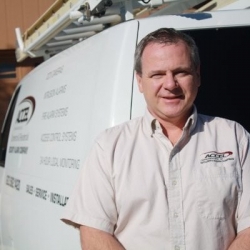 Latest posts by Evan Gavrilles
(see all)